The list of best celebrity hairstyles 2012 runs pretty long, my ladies, as there are so many fantastic 2012 celebrity hair trends to write about, so many gorgeous up do's to mention and so many fantastic ladies to high-five for their choices. The good news is that there are plenty of gorgeous styles to go around, an even better one is that choosing only one best celebrity hairstyle in 2012 will be a mission impossible, so keep reading for a fresh, detailed report on this year's most favored looks:
---
1

Blake Lively's Romantic Braids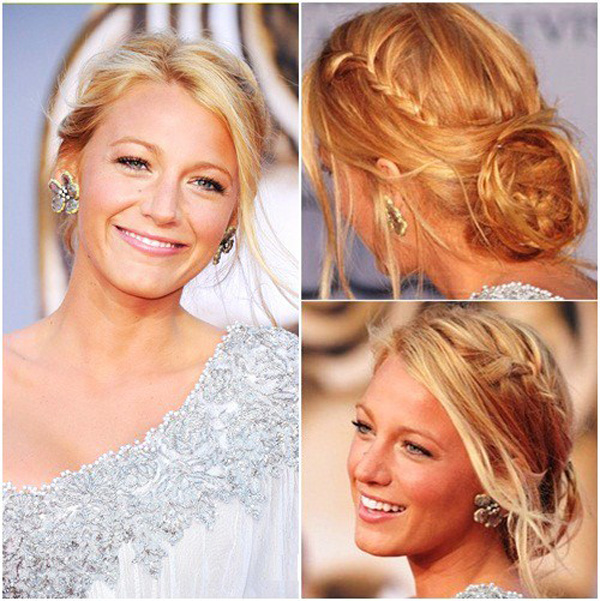 Gossip Girl star can definitely work a lot of gorgeous, trendy looks but it's the season's popular braids that got all fans, stylists and critics gasping in awe! Her long blonde locks pulled up in two messy side braids, a few wispies here and there and an elegant chignon to complete this stunning BAFTA look – her stylist deserves a big round of applause for managing to hook Blake up with one of the best celebrity hairstyles 2012 despite the fact that it was only 2011!
2

Scarlett Johansson's Milk Maid up do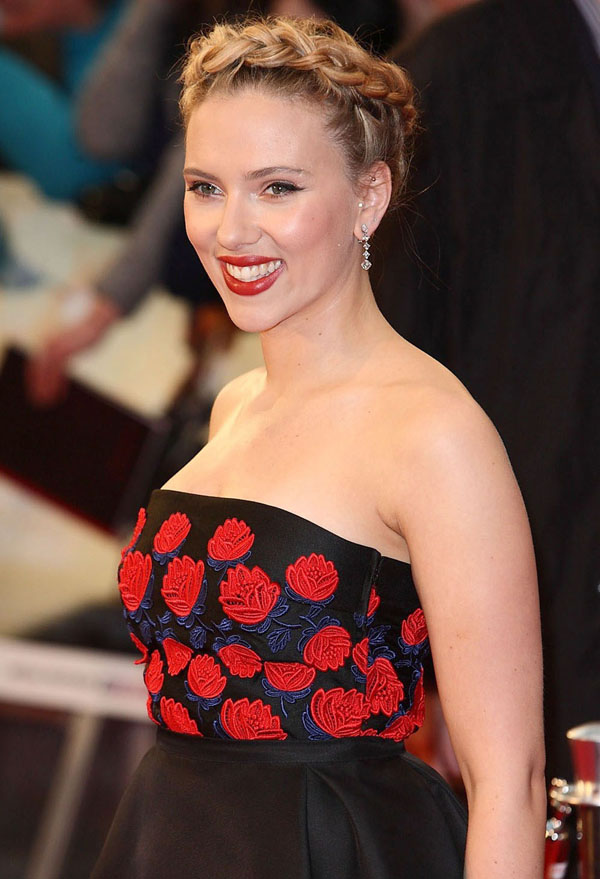 This gorgeous gal hopped on a plane to London this April to promote Avengers and ended up helping a re-launch of an interesting trend – milk maid braid! Now, I don't know if she has her natural beauty or her stylist to thank for managing to make this style go from romantic slash boho to totally chic but she certainly did set the bar pretty high, adding yet another cool summer look to our lists of 2012 celebrity hair trends to consider.
---
3

Cameron Diaz's Short Waves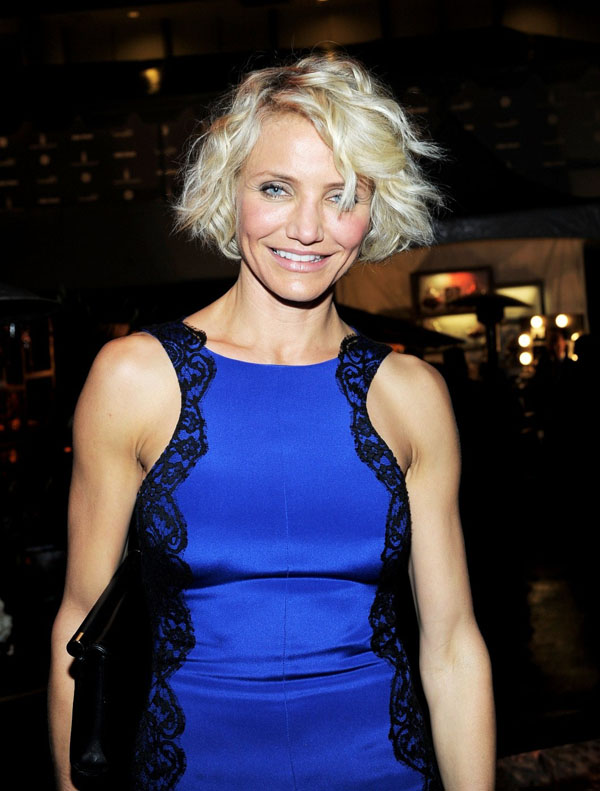 Hollywood's favorite girl next door has made the popular slogan "Just Do It" her personal mantra and allowed herself to welcome 2012 sporting the shortest beachy waves ever! A radical change can be a good thing, the stylist agree and some would even say her light, jaw line-length waves could easily be the best celebrity hairstyle in 2012!
---
4

Mila Jovovich 1930's Glam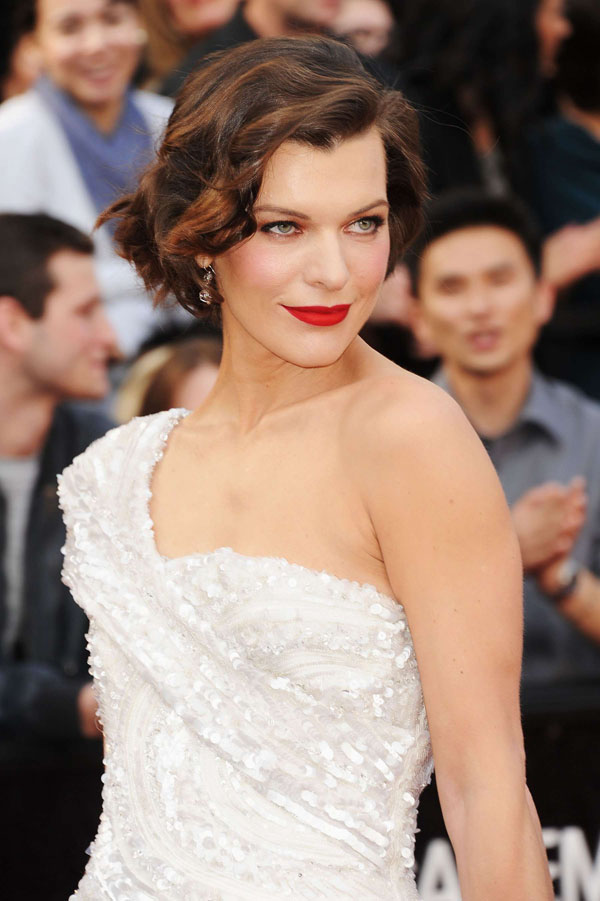 Speaking about best celebrity hairstyles 2012, how can anyone forget Milla's breath-taking appearance at this year's Academy Awards?! And if that dress was not enough to take your breath away, all you had to do is look up and admire those glamorous 1930's waves! And they say short hair is not versatile!
---
5

Michelle Williams's Adorable Pixie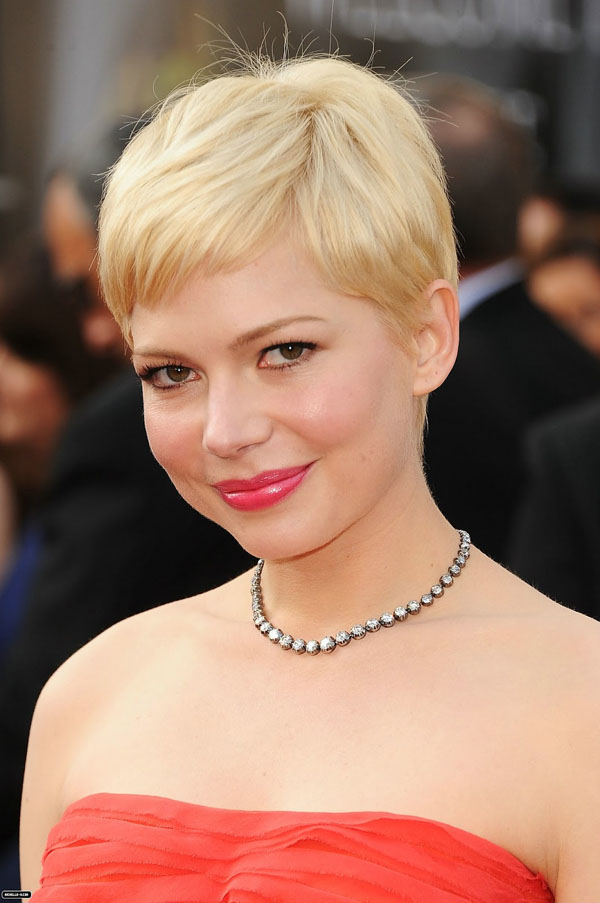 Michelle was spotted sporting this look before the year had started, yet magazines and stylists continue to bring it up, almost as if 2012 celebrity hair trends wouldn't be complete without it! No need to take their word for it, though, a before and after photo of Michelle says it all! Go pixie!
---
6

Katy Perry's Blonde Bob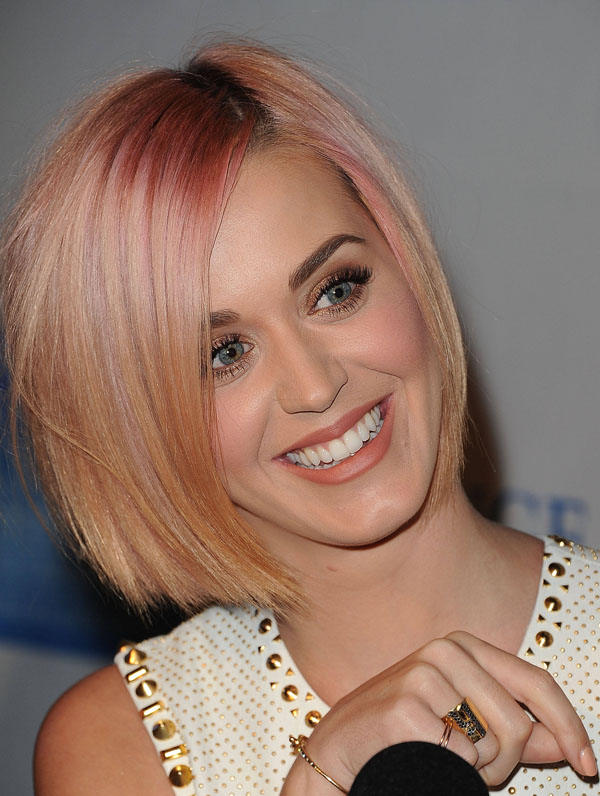 Katy loves her crazy colors too much to allow us enough time to really enjoy those rare few looks she did manage to pull off right yet there is one particular look the public loves too much to let go! Her blonde, sexy bob spiced up with just a hint of lavender might not be the ideal everyday hairstyle for a regular, non-celebrity girl but it sure is one of the best celebrity hairstyles 2012.
---
7

Taylor Swift's Straight Hair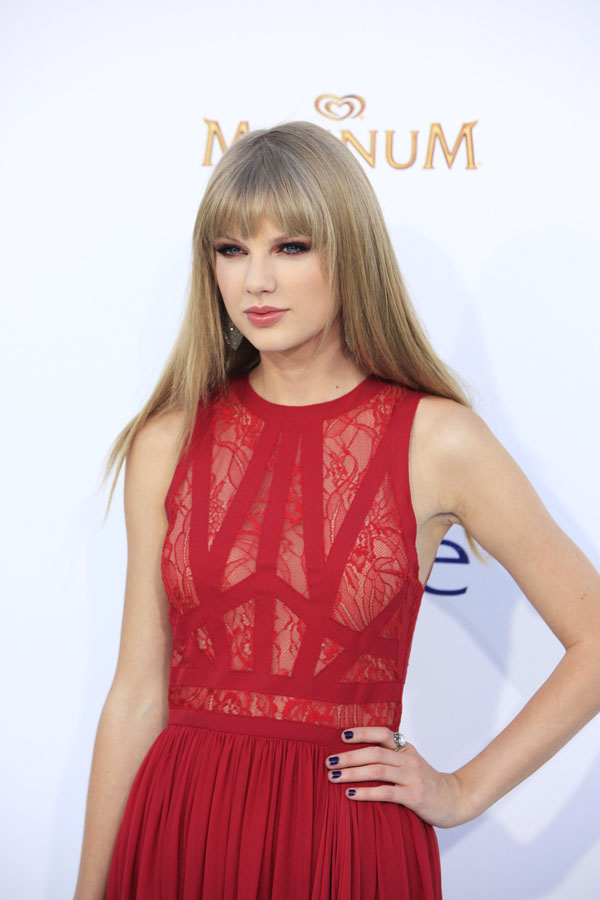 Young, talented and beautiful Taylor Swift has really managed to shock and awe at 2012 Billboard Music Awards! And it had nothing to do with her music or choice of fashion but an awesome new hairstyle! Those famous curls are gone, ladies, straightened and glossed to perfection, giving Taylor a modern yet sexy, glamorous look many are rushing to emulate as we speak.
---
8

Kim Kardashian Sexy Fringe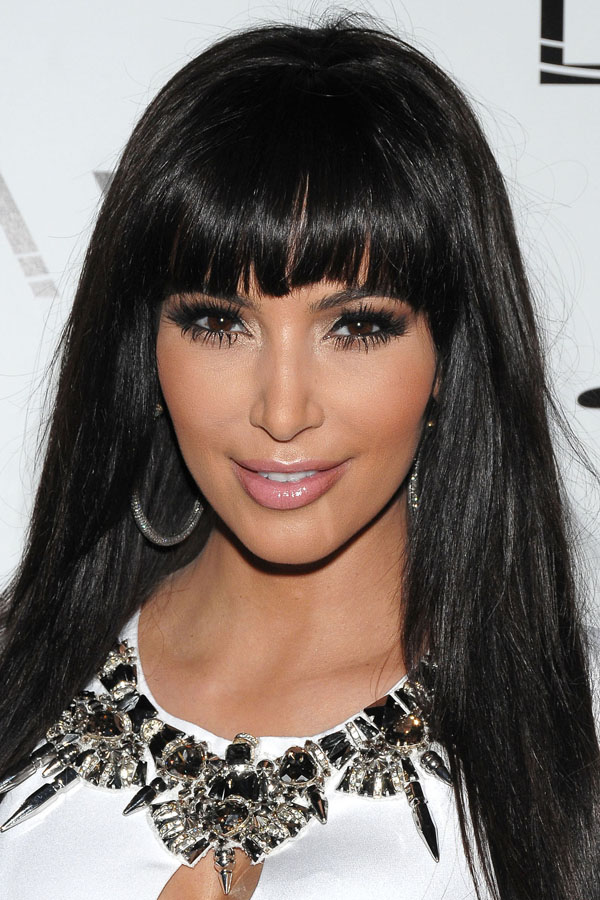 Kim's full fringe has really managed to bring sexy back, giving this reality TV star a look that made a lot of knees go weak. She did not choose to hold on to it for long, though, but the style remained well loved and popular enough to make it to a lot 2012 celebrity hair trends lists.
---
9

Kylie Minogue's Blonde Locks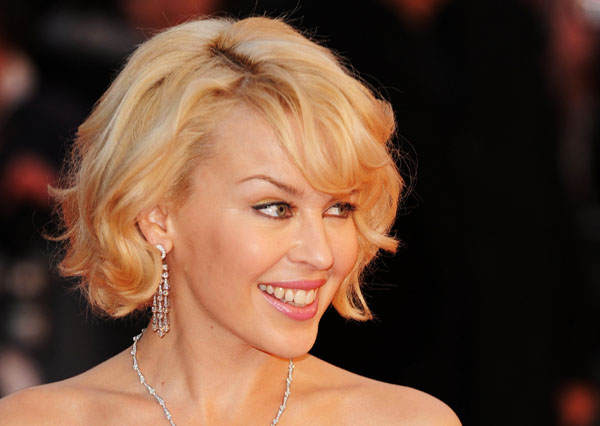 Sexy songstress is back to her blonde ways enjoying the year's most popular wavy bob making stylists and critics trip over their feet tying to be the first one to praise her looks. Bravo Kylie! She has definitely managed to rock this best celebrity hairstyle in 2012 and it didn't even seem like was trying really hard!
---
10

Angelina Jolie's Sleek Bun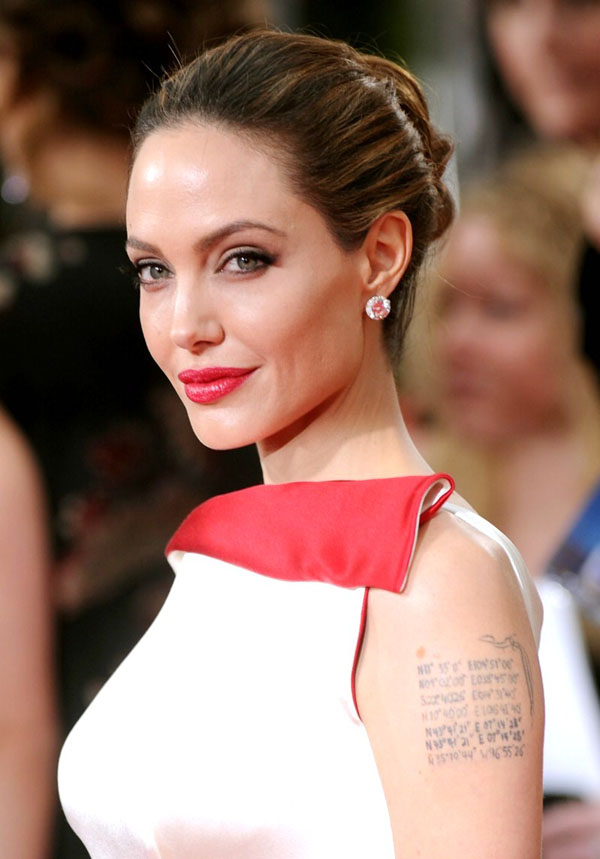 A sleek formal up do is always a fool-proof way to look glamorous on red-carpet yet only Angie can take something as simple as a bun and turn it into one of the best celebrity up do's in 2012! Red carpet at the Golden Globe Awards has seen a lot of breath-taking appearances over the years but 2012 belongs to Mrs. Smith and her only.
---
11

Kate Winslet's Retro Pin Curls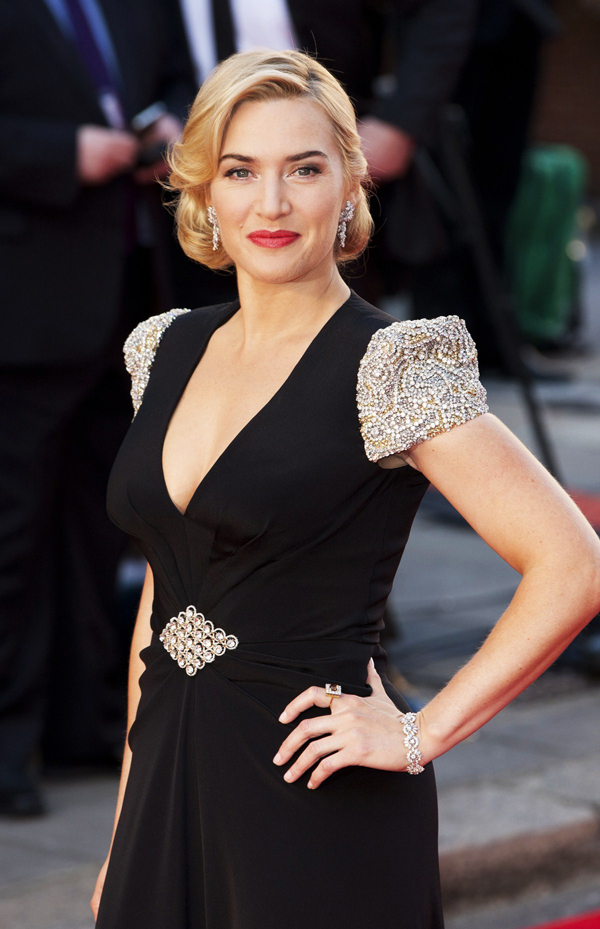 Titanic 3D premiere in London was definitely "Oh-la-la!", all thanks to gorgeous Kate and her glamorous retro getup! Luxe, chic pin curls proved to be a fantastic choice and, quite honestly, I doubt I'm the only one who thinks she looks way better now than she did back in 1997! And, speaking about best celebrity hairstyles 2012 or, better yet, best celebrity up do's in 2012– don't you think this is one of them?
---
12

January Jones' 20's Meet 60's Bob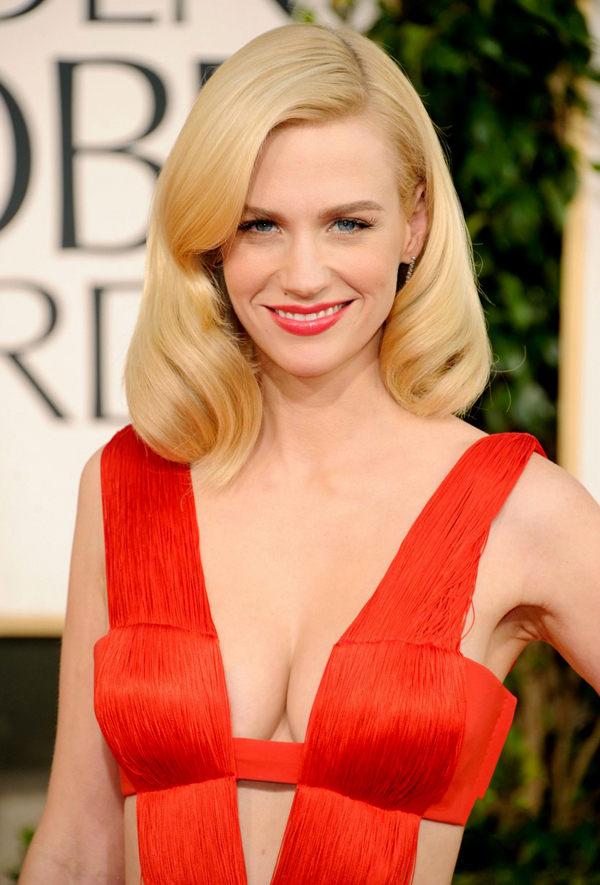 Deep side parting and sleek iced tresses spiced up with just a hint of that retro, Old Hollywood sexiness – smells like a recipe for a best celebrity hairstyle in 2012 to me and January Jones is guilty of nothing more and nothing less than managing to get that recipe right!
---
13

Mena Suvari's Long Bob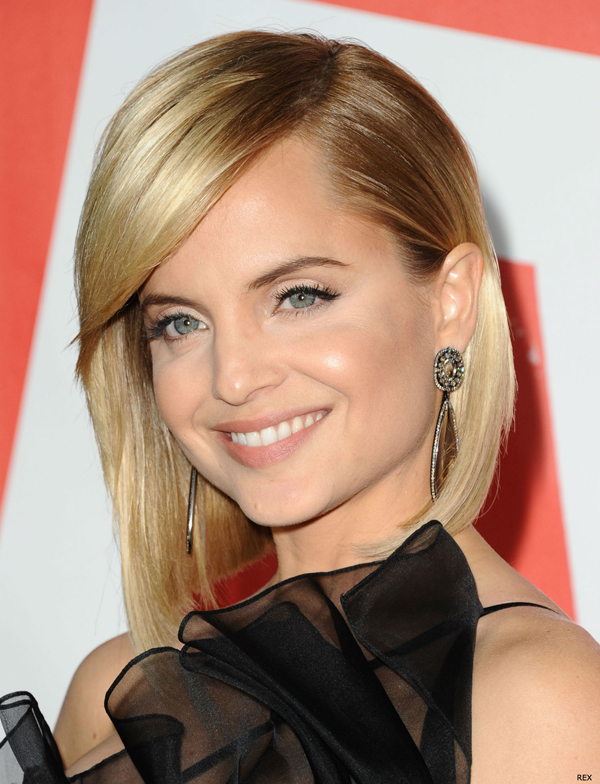 Okay, okay, you get it, bobs are super hot this year! So hot that by the time this year is done, there probably won't be a female celebrity sporting long locks left! LOL! Mena Suvari obviously knows a thing or two about 2012 celebrity hair trends because she too gave her stylist a permission to chop her long tresses off which might have been a risky move if she hadn't ended up looking better than ever!
---
14

Yvonne Strahovski's Choppy Cut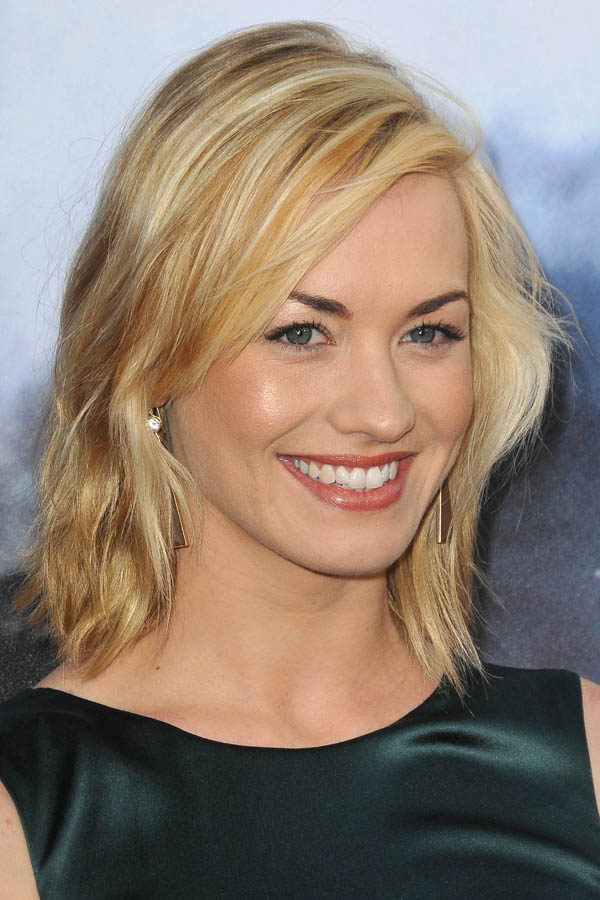 Not quite a beach wave and not quite a choppy bob, Yvonne's richly textured almost shoulder length style certainly looks like something a girl would want to wear this summer! Stylists especially like her long, side-swept fringe pointing out how this style not only looks good on all face shapes but is extremely easy to style as well, requiring only a texturizing spray of choice and fingers to keep it looking fabulous on daily basis.
---
15

Christina Ricci's Cleopatra Style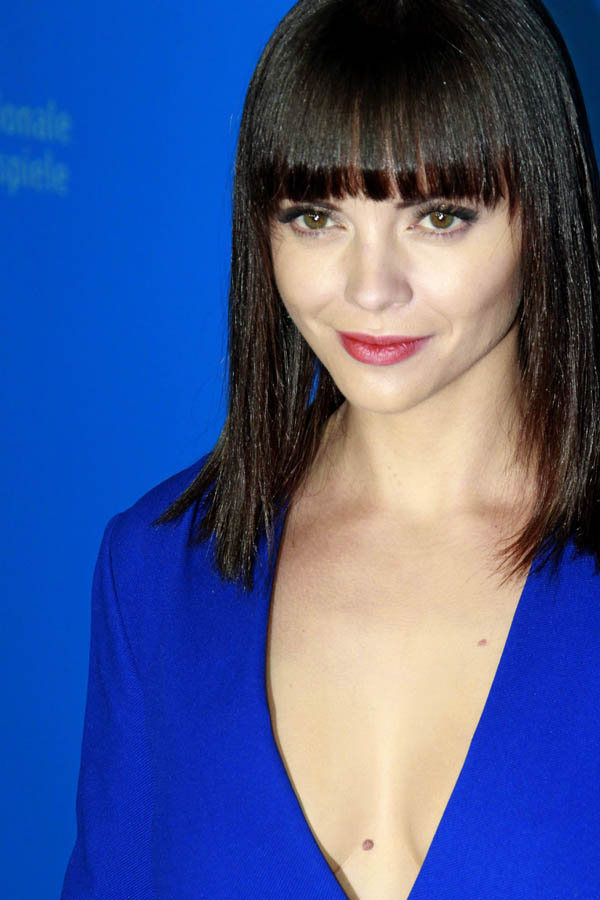 Full bunt bangs and sleek shoulder length hair definitely does Christina justice framing her heart-shaped face and making her eyes pop! This chic, polished look has managed to gain a lot of high profile fans quickly yet no celebrity so far has been able to pull it off as good as this gorgeous actress.
---
16

Tyra Banks' Tousled Curls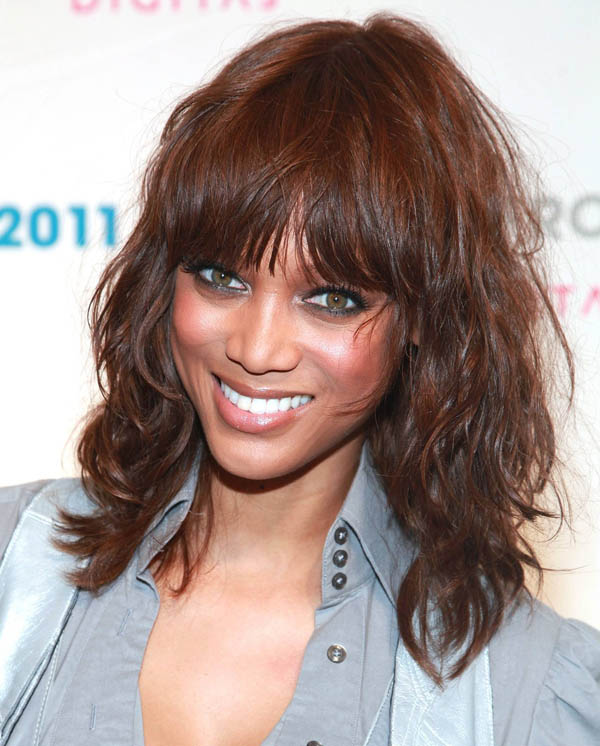 Well, in case you think Cleopatra-inspired cut is the best celebrity hairstyle in 2012 and are dying to take it for a test run yourself, definitely check out Tyra's romantic version of this style. Incorporating the same luscious full fringe and a glossy finish with soft, tousled waves as the main difference, her style can give you a few ideas on how to sweeten up your look while getting to keep that chic, sexy vibe.
---
17

Salma Hayek's Ombre Waves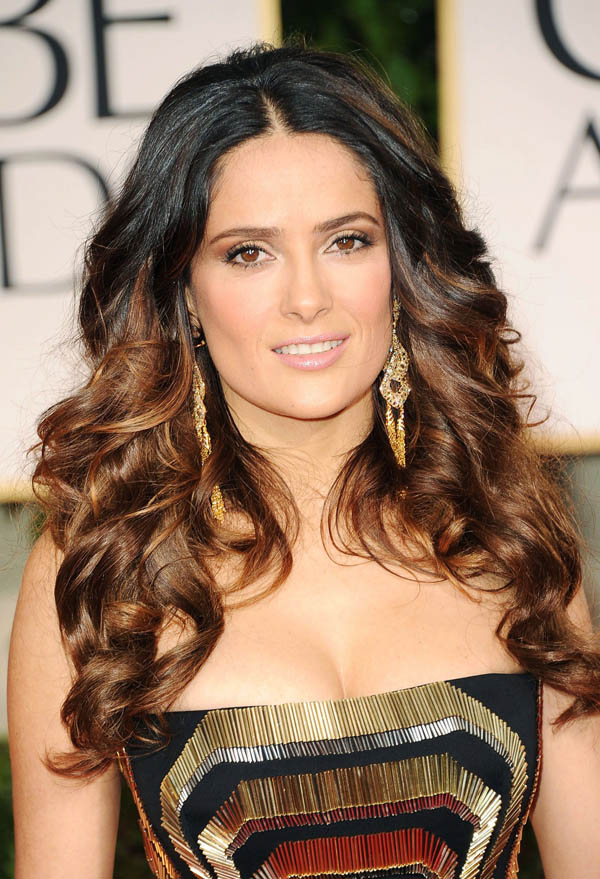 But my list of best celebrity hairstyles 2012 just wouldn't be complete without at least one example of how much good ombre can do for person's looks and Salma's Golden Globe Awards hair is the perfect one for taking notes! Don't you think those new caramel ends compliment her complexion and dark hair perfectly?
---
18

Charlize Theron's Side Bun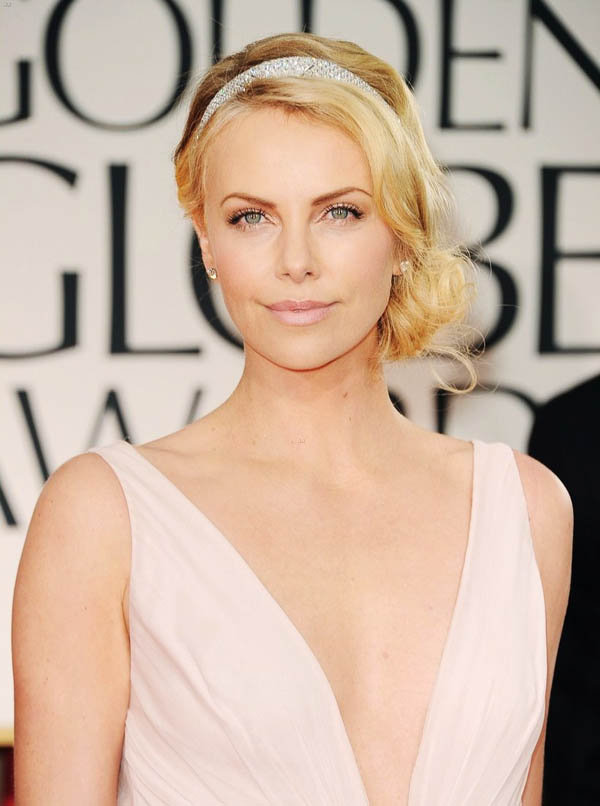 Speaking about Golden Globes, let me add one fantastic example of what best celebrity up do's in 2012 should look like! Chalize's starry look, of course, doesn't come cheap but you can totally pull it off! Plus, let's not forget that a romantic loose side bun and an eye-catching sparkly headband could prove to be a stunning bridal/prom look!
---
19

Jessica Alba's Side Swept Curls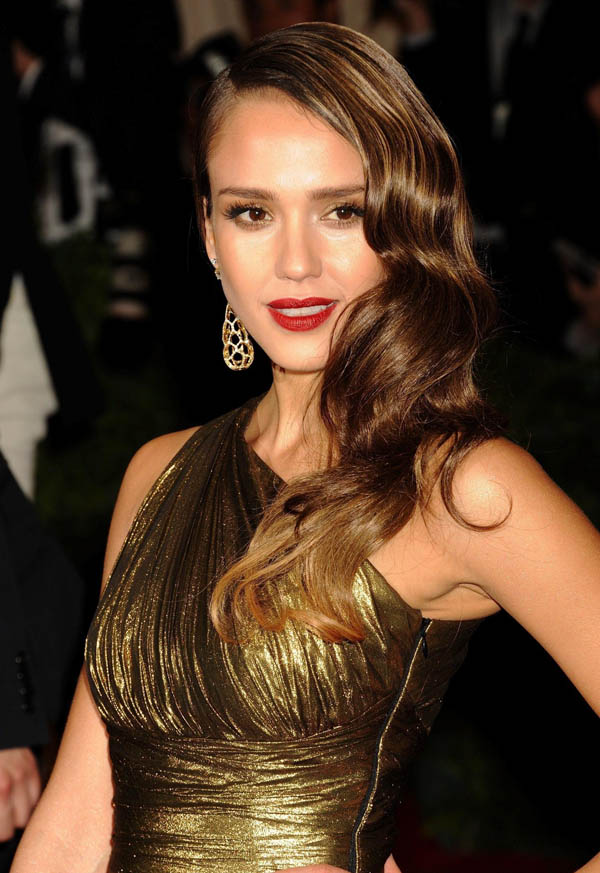 Jessica Alba or Jessica Rabbit – this year's MET Gala made it impossible to tell! Showcasing an array of fantastic styles worthy of every possible list of best celebrity hairstyles 2012 ever to be made, this glam event did have a few stars that shone brighter than others and Jessica was, in my opinion, one of them! Her luxurious waves were polished to perfection and swept to the side to compliment deep red lips, and a gold gown worthy of a diva.
---
20

Jennifer Love Hewitt's Side Ponytail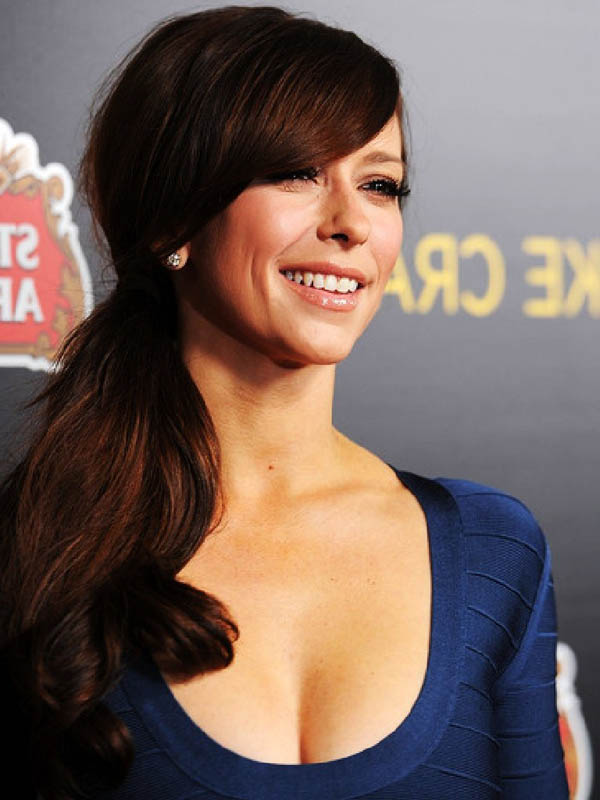 Side swept, voluminous, with just a bit of curl at the end – Jenny's stylist certainly knows a great recipe for a glamorous low ponytail! Now, I know a ponytail doesn't really seem like much but the funny thing is that celebrities have gone mad about them this year forcing their stylists to jump through hoops trying to come up with one magazines would proudly name the best celebrity hairstyle in 2012. And with it's perfect dose of luster, curl and body as well as side-swept bangs to match, Hewitt's pony sure looks like a winner!
Fun, diverse, elegant - 2012 celebrity hair trends offer the idea hairstyle for every taste, face shape and hair length! But which of these best celebrity hairstyles 2012 would you opt for in case you just wake up one morning and realize your hairstyle needs an immediate update?
Top Image Source: weheartit.com
---
Comments
Popular
Related
Recent