7 Hair Tweaks to Make You Look Younger ...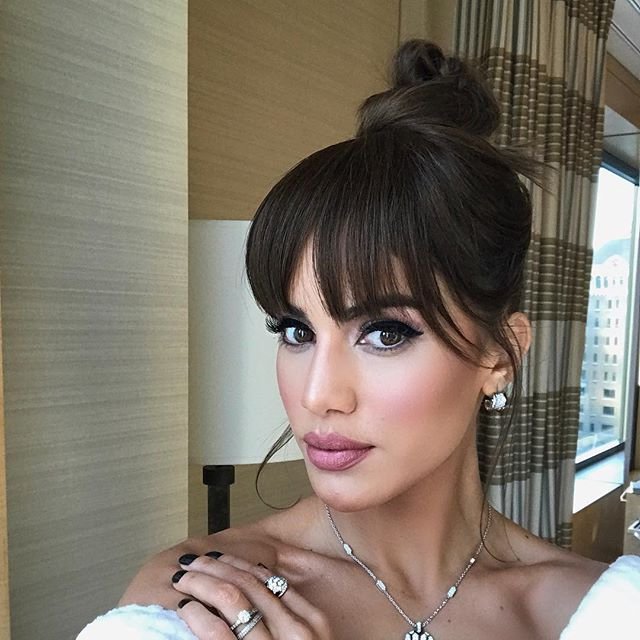 Ladies, were you aware that there are actually hair tips to look younger? You wouldn't think a hairstyle would really affect how old you look but it really makes a difference! You know how a mushroom haircut can take you back to your elementary school days? Well, just like some styles can make you think of your younger days, there are some styles that can age you, so check out these 7 hair tweaks to make you look younger and make sure you aren't making any of these hair mistakes!
Love 'em or hate 'em, getting the right style of bangs is one of the most fantastic hair tips to look younger and stylish! Side swept bangs are favored because they create a soft look, hide fine lines and wrinkles like a charm and can literally take years off of your face! Another added benefit from sporting side swept bangs is that it's an easy way to change up your hairdo without sacrificing length as they complement many face shapes!
Dry, brittle hair not only makes your hair look aged and unkempt but it can make you look older too, so an easy tip to look younger is to deep condition your hair. There are tons of different types of deep conditioners out there so take things such as: hair length, type, whether you color your hair or not and the extent of the damage, into account and you'll find a perfect one in no time. Take time out at least once a week to apply a conditioning treatment to your hair and you should start seeing a big difference in your appearance!
Highlighting or adding strategically placed pieces of color can instantly light up your face and is a sure way to look younger by changing your hair. If you don't like the upkeep or fear the damage highlights can do to your hair, you can always opt for lighter colored extensions or use a semi-permanent dye just to add some dimension to your hair. Darker colors may prove to be harsh-looking at a certain age, accentuating the lines you're trying to hide.
4.

More Bang for Your Buck
If you're looking for an easy solution to shave years off of your appearance via a hair tip to look younger, simply grow your bangs! Bangs that are too short can make you look older and stern which is not cute at all. If you're a fan of fringe but don't necessarily like the side swept look, go for regular straight bangs that are about an inch above your eyebrows and you'll have that soft, youthful look in the bag!
Another easy tip to look younger is to wear looser hairstyles. Think loose buns and waves and avoid anything too slicked back or tight. Doing this will help you avoid looking like Olive Oyl and minimize breakage caused by pulling hair back or wearing it too tight. Tight hairstyles can look chic, of course, but for casual everyday look go with less structured styles. They will make you appear more approachable and can frame the face in a more flattering way. If you like the pulled back look, try balancing out your hairstyle in the back with a loose bun, braid or pony tail so that it doesn't look tough and dominatrix-y.
I realize that sometimes we'll have to wear those hairstyles that require lots of hairspray and other styling products yet must note that going easy on the hair styling products is another one of the simple hair tips to look younger. I totally get that you want your curls and waves to stay put but applying too much gunk in your hair can make you look stiff and outdated. Look for products that give you hold without making your hair too crunchy or appearing hard.
This is probably one of the most obvious hair tips to look younger but I would be thoughtless to not include it! I'm all for aging gracefully but I started getting grays in my early 20's and, as a result, had to start concealing them very early. If you don't like dying your grays or roots, there are other options to cover them up without having to use dye! Look for hair powders and coloring sticks at beauty supply stores. Another fun option is using a colored hair mascara on those grays! You can go for fun, bright colors to keep up with the latest trends but there are also "normal" colored hair mascaras, just in case you're not too keen on the brightly colored roots!
These hair tips to look younger are so simple and easy! And, trust me, implementing these hair tweaks can really make you look years younger! Don't let your hair color or style age you or overwhelm your beautiful face - use these suggestions to make small changes in your favorite and most flattering hairstyle and score a fresh, young look in no time!
Top Image Source: formediacumhair.blogspot.in
{{#comments_count}} Show Commnents ({{comments_count}}) {{/comments_count}}