7 Ways to Handle a Bad Hair Day ...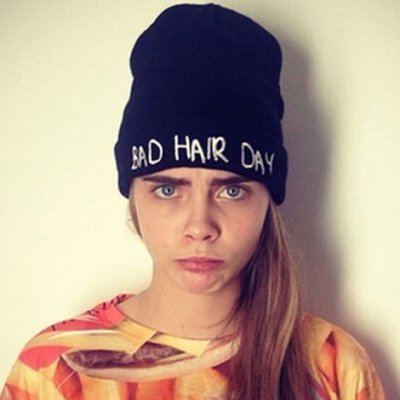 Everyone has days when they look in the mirror and realise with a sinking feeling that it's one of those days - a Bad Hair Day. You wrestle with your errant locks in a battle to transform them into something resembling order. So how can you win the fight and leave the house looking acceptable? Try these tips when you have a bad hair day …
The quickest way to deal with a bad hair day is to hide your misbehaving hair under a hat. A beanie or beret is ideal if you want to keep your hat on indoors. Hats hide all kinds of hair problems, so make sure you've got a few different styles for those days when your hair just won't do as it's told.
A simple ponytail is often the best solution for those who have longer hair. It can also look quite stylish, especially if you pop in a fabric flower or slides to make it look more like a style statement than a cover up! If your hair still looks unruly, twist it into a loose bun - messy buns are popular with models and actresses when they're off duty, so you'll look like you've spent ages styling your hair.
If you're having a lot of bad hair days, these may be caused by using the wrong product or none at all. Some hair needs to be styled with product to keep it under control, especially curly hair. Try some different products until you find one that works, and be sure to choose one that's right for your kind of hair.
Central heating and winter winds can play havoc with our hair. Your hair may benefit from a good conditioner or hair mask to help it deal with the climate. Why not pamper yourself with a homemade product while watching your favorite program? Try these posts for lots of ideas on how to make your own hair treatments (hair.allwomenstalk.com)
Wigs are actually pretty fashionable these days, and women even wear them on nights out. It's a great way to get a different look, and an excellent method of disguising a bad hair day! So keep a wig on hand for those days when your hair won't behave, and you can pretend that you simply fancied a different look for the evening.
Another product that's useful to keep on standby is dry shampoo, if your hair is playing up because it's oily. So try it on those days when your hair really needs a wash but you don't have time. Dry shampoo will freshen it up and hopefully keep it under control. It's also good for freshening up if you're going out straight after work.
Finally, you could be having lots of bad hair days because you don't have the right cut for your type of hair. It could be the wrong length, or you might need some layers. Get a great cut from a stylist who knows how to work with your type of hair, and they will give you a cut that is easy to style every time.
Do you have another foolproof solution for when you're having a bad hair day?
{{#comments_count}} Show Commnents ({{comments_count}}) {{/comments_count}}