7 Ways to Keep Your Hair Perfectly Straight despite the Weather ...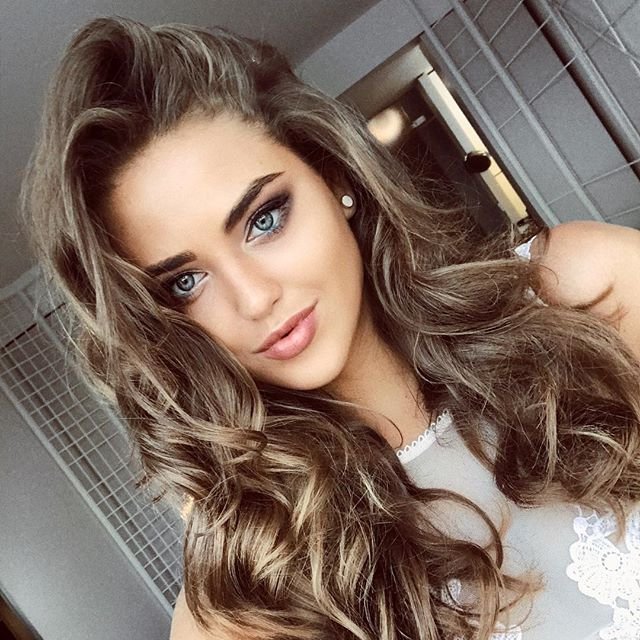 Perfectly straight hair often doesn't just happen on its own…at least not for all of us who have been standing in the "curly" line when Mother Nature was giving away hair! And unlike straight-haired girls whose only problem and cause for frizz is hair damage, we, curlies, do need to put some amount of effort into achieving an absolutely perfect pin straight hairstyle. No need for a sad face, lovelies, as there are plenty of tricks to help you ward off frizz and ensure that, once you straighten your hair, it stays that way until the next wash!Take a peek at this list below to find a new tip for straight hair to add to your styling routine:
1.

Finish off with a Cold Blow
Straightening hair can be such hard work most of the time which, of course, makes us all want the style to last! The last thing we expect is for our perfect hairstyle to get all fuzzy and misshapen within the first couple of hours – right? Well, here's a tip that's going to get you that perfectly straight hair of your dreams! Once you're done straightening each segment of hair, take a large square brush, adjust your hairdryer setting to "cold" and work those two together. Your hair will get much smoother and shinier but those are hardly the only benefits of it! Yup, you've guessed it – adding this simple step will ensure longer lasting pin straight hairstyle!
In case your hair tends to frizz and fuzz around your hairline, you should definitely assemble a tiny first aid kit that fits into just any bag! You won't need a lot of things so don't worry – we're talking about a really tiny one you can even fit into your evening bag! You'll need two to three sets of bobby pins (make sure one matches the color of your hair and go for something fancier for the second one), a pack of tissues and a medium claw clip (leave out if your hair isn't too long). And this is where things get really simple – Simply pull your bangs up into a small pouf when the heat gets unbearable, pat the moisture off your hairline and release the bangs once your body adapts to the temperature. I used to do this for parties all the time, by the way ! A quick trip to the ladies room and voila - I'm ready to dance my heart out and my hair doesn't have to suffer for it!
3.

Pay Attention to Details
Another great tip for straight hair that lasts would be to really take your time when straightening and make sure you've done a flawless job. And whether you're blow-drying or flat-ironing, the only way to do so is to avoid rushed jobs. Let your hair air-dry until it's about 70 to 80% dry, then section off and work on each individual section until it's completely dry and completely smooth.
"But what about sleeping?", some of you may ask! Well, there is a way to preserve your perfectly straight hair even in the hottest of days or nights! Simply comb your hair back and secure it into a low pony by sliding on a no slip elastic band. Follow up with a twilly or a folded silk scarf if your hair is long and your length will be as silky and crease free as ever! Simply loop the folded scarf/twilly around the elastic for hold, then wrap your ponytail up all the way down and finish off with a loop. Kind of like the way Hermes owners wrap the handles of their bags! Slip a few elastics over the scarf to make sure it stays put and voila!
When your hair is medium or long, keeping it perfectly straight yet sexy and flowing is one of the biggest summer challenges. Kind of like applying a suntan lotion between your shoulder blades – doable yet takes a bit of work. In order to prevent the frizz and curling that sweating will cause should you decide to leave your hair loose, experiment with this next tip for your straight hair! You don't have to put your gorgeous length up, simply choose a full back tee or top, or experiment with super light silk scarves that are not only a fab accessory to play up a plain tank top but will also prevent a direct contact between your hair and your bare back.
Keeping your hair straight will be much easier with the help of a few products made especially for this purpose! My days of pin straight hair everyday and any day are long over, but I remember Tigi having a cool selection of various products to help maximize your straightening results. Find your ideal line/cosmetic brand/ combination of products and invest in a shampoo, conditioner, anti-frizz serum or a leave in and you'll have everything needed for a perfect, long lasting style!
7.

Proof It against Humidity
Don't worry if your budget doesn't allow much experimenting with pricy stuff. You can have perfectly straight hair without having to pop open a tent in front of Sally's Beauty Supply to make sure no new product ever slips under your radar! Opt for an anti-frizz leave in and a can of your favorite hairspray and voila! Anti-frizz products will help protect your hair against humidity allowing it to hold the style even in summer, and while a hairspray probably isn't something you'd want to be using on daily basis, it will help you frizz-proof your hair to perfection for parties and special events. Spray some of it onto your brush then run the brush through your hair for a subtle hold or section off top layers and lightly mist the bottom ones first, before moving onto your bangs and your hair as a whole. I like to use this last method to keep the hair close to my face straight and tame those wonky baby hairs around the part. Give it a go – you'll love it!
Are there any other tips for straight hair I might have forgotten to mention? Well, this is your chance to pitch in! Let me know which products and styling tips have helped you rock perfectly straight hair despite humidity, rain, snow or heat!
Top Image Source: blog.esther.com.au
{{#comments_count}} Show Commnents ({{comments_count}}) {{/comments_count}}