At Home Highlighting is a serious money saver. I'm a fan of highlights, especially since I embarked on a journey to grow out my hair to get rid of all the dye. The problem there is roots, of course, as my natural color reveals itself. Highlights are a way to take care of that problem without dyeing my whole head. I prefer at home highlighting kits because I just can't justify spending that much money at the salon. Between the Better Half, my mom, and myself, there are three people who have gotten really adept at the whole DIY highlighting thing, so I'm set! If you're interested in doing it yourself as well, here are several at home highlighting kits I've tried and loved!
---
1

L'Oreal Color Experte Express Easy 2-in-1 Color + Highlights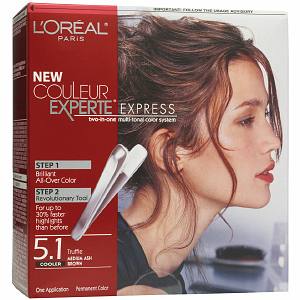 Price: $11.99 at drugstore.com
This is a great at home highlighting kit if you do want to incorporate all over color as well. You get the base color of your choice – and there are a ton – and then a mix for highlights that match the base color. I really like this kit, but you have to be careful with the highlights themselves. My only con is that you have to time them really carefully, or else your streaks will turn out a bit brassy.
2

Clairol Nice 'n Easy Hairpainting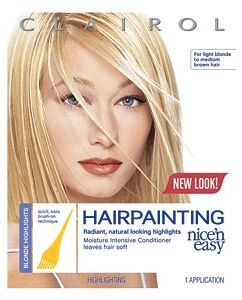 Price: $8.79 at drugstore.com
This version of Clairol is mainly, but not exclusively, meant for blond highlights. It's a great summer choice if you're looking to go the streaky route. There are other colors, though, and if you prefer painting to caps or spatulas, this is definitely a great choice.
---
3

Tints of Nature Conditioning Permanent Highlights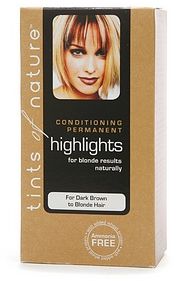 Price: $19.99 at drugstore.com
This is on the expensive side, and you might be rolling your eyes since this one is a mainly blond at home highlighting kit, too. The thing here is that it's for all shades of hair, from dark brown to red to blond and beyond. I like it for it's versatility. If you want light streaks and highlights in darker hair, this is a great choice, and worth the $10.00 price difference.
---
4

L'Oreal Feria Multi-Faceted Shimmering Color 3x Highlights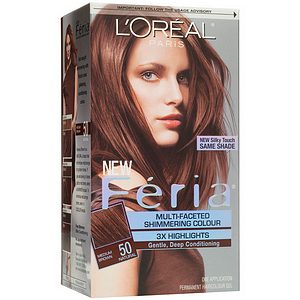 Price: $7.99 at drugstore.com
This is a different kind of product because it, too, is an all over color – but that's all it is. However, it's the easiest bit of highlighting you'll ever do at home, because they're mixed right into the color. The highlights will thus look completely natural, and you can find all kinds of different shades, from deep black to light blond, so that's always a plus.
---
5

L'Oreal Touch-on Highlights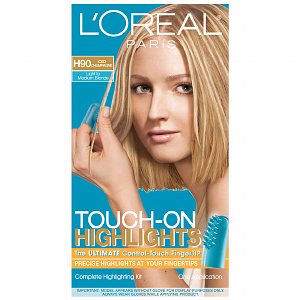 Price: $10.39 at drugstore.com
As you can see, L'Oreal has a lot of at home highlighting options for you to use. This one is really easy to use, which is why I like it – I like anything without hassle! This one comes with a brush but you can also use your fingers, which aids in precision. You can also find lots of scrumptious colors, like Iced Champagne, Toasted Almond, Golden Honey, and Creamy Caramel. Yum!
---
6

Revlon Frost & Glow Highlighting Kit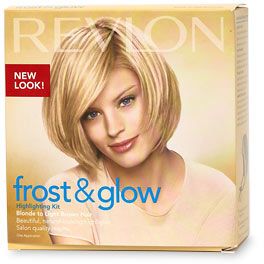 Price: $8.99 at drugstore.com
If you prefer a more frosted look, Revlon has you covered. This product deals primarily in lighter colors, so if that's the look you're going for, this is a great kit to try. It's also surprisingly good at covering grey, at least according to my mom, so that's cool!
---
7

L'Oreal Color Rays Brush-on Highlights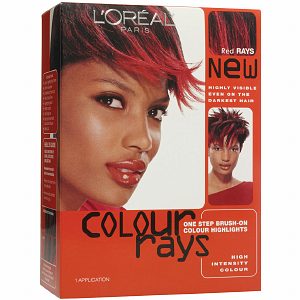 Price: $8.79 at drugstore.com
Finally, you can also find at home highlighting kits for bolder colors! I used to use this all the time when I wanted some really daring red streaks. There are all kinds of colors, and my only beef is that the highlights don't last very long. But then, in my experience, you rarely want red, fuschia, or purple streaks for longer than six months or so, you know?
Take my word for it, at home highlighting looks just as good as a professional job, and you can follow any pattern you want. It's important to remember your hair itself when you're choosing an at home highlighting kit – length, fullness, color, and so on – but there really are kits for everyone, no matter what the texture or style of your hair. What do you think of at home highlighting, have you tried it or would you like to? Let us know your experiences!
Top Image Source: weheartit.com
---
Comments
Popular
Related
Recent