10 Ways to Rock a Faux Hawk ...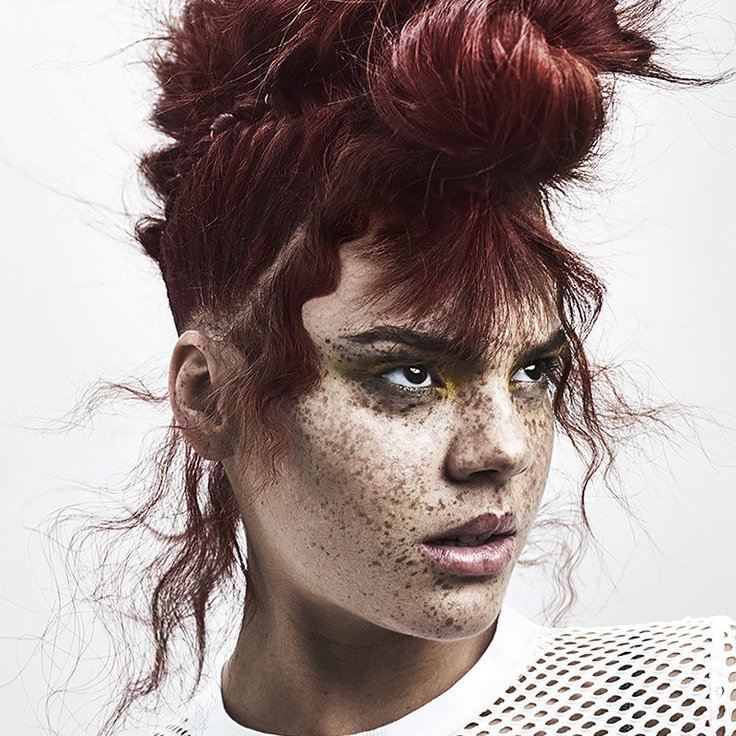 This is for all my short haired (and long haired) friends out there who want to try something new and are looking for ways to rock a faux hawk! I had over 14 inches of hair and decided to chop it all off into a pixie cut! Yes, I chopped it! Then when it started growing I had to overcome the difficulty of styling my do! So whether you have a cute pixie cut or longer locks, here are 10 ways to rock a faux hawk!
1.

Faux Hawk for Long Hair
youtube.com
When I had long hair, I decided I wanted to rock a faux hawk. The task alone seemed difficult and it didn't seem realistic, but, low and behold my long haired beauties I found just the tutorial to let you achieve that rockin' faux hawk! This is really one of my favorite ways to rock a faux hawk... now I just need long hair again!
2.

Dear Whippy, Faux Hawk
youtube.com
This was my first ever attempt at doing a faux hawk, using this tutorial! I used similar products but not the expensive brand. Let me tell you, once you get the gist of knowing where to place your hair it becomes easier to style into a faux hawk!
youtube.com
This tutorial is for my long haired beauties! Learn how to tease, lift, and style your locks into this rocking mohawk! It gives you this latest century on its version of a mohawk using a lot of teasing and giving it the simple side of a faux hawk mohawk!
4.

Fun, Feminine Faux Hawk
youtube.com
This is one of my absolute favorite ways to style my faux hawk! It gives you the crisp, clean version of a faux hawk mohawk! It's pretty quick and easy too! This is my back-up method to Dear Whippy, faux hawk! You'll love the simplicity of this, I know I did!
5.

Pompadour/Faux Hawk/Mohawk
youtube.com
This cute version of a faux hawk/mohawk definitely will make heads turn! For those ladies with the long hair, this is a cute way to rock a "bump" and a hawk all at the same time! Now who doesn't want to rock two different styles in one day?
youtube.com
This is another one of my favorite ways to style my hair! I also use these hair products and by golly, I'm obsessed! I use a very little amount and it is flexible and it smells fantastic! I was never a fan of a blow dryer, but it definitely helped create my edgy look! I definitely recommend this look!
youtube.com
This hairstyle has been used by celebs like Gwen Stefani, Rhianna, and so many more! I personally enjoyed watching this video and wished I had my long hair to try this on! That swirl is beyond cute! I am totally obsessed with the vintage rock, that the hair shows off! Rock on beauties!
youtube.com
For my pixie cut ladies, this YouTube video is just for you! I am currently in the process of growing out my pixie do, but, when I was rockin' the short tresses this video helped me with my overall look! I am not a big fan of using a lot of product, so I applaud the simplicity of this style.
youtube.com
This video gives me and idea! It gives the best of both worlds, the not so rock-star like hairstyle, turned into simple, classy yet edgy! Sometimes I like to style down my faux hawk by keeping it simple. Sometimes I feel like doing simple hairstyles like this while wearing fun, make-up and rockin' attire!
10.

Medium Length Faux Hawk
youtube.com
Girls, watching these videos makes me miss my long hair! And, now that I am in the process of growing-out my do I can't wait to experiment and try out these methods of styling! This video in particular is something that I believe can be done with long hair as well! You be the judge!
Sometimes we girls need a rockin' do to go with our rockin' tude, don't you think? I know I love to experiment with different hairstyles, make-up and attire. Faux hawks and mohawks are two of my favorite ways to style my hair! What are your favorite ways of rockin' a faux hawk or a mohawk? Did you like any of the videos I shared? Let me know!
{{#comments_count}} Show Commnents ({{comments_count}}) {{/comments_count}}