I love happenin' headbands; they're among my favorite hair accessories, primarily because it doesn't really matter whether your hair is long, short, or somewhere in between – you can still wear them. They can add a lot of flair to an outfit as well, especially since you can find bands that are casual or dressy. Sometimes I want 'em plain and sometimes I want lots of flourishes – you'll find plenty of both in this list of happenin' headbands for all kinds of hairstyles!
---
1

Garden Grows Headband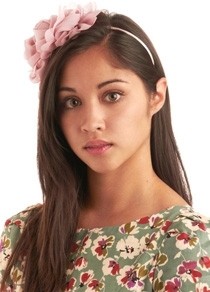 Price: $13.99 at modcloth.com
You know me and the color pink, so it's probably no surprise that the first happenin' headband I found is a gorgeous shade of pink. I love Mod Cloth's hair accessories anyway, but this headband is just tops. I love those roses, which are made of mesh, making the band extraordinarily feminine.
2

Large Bow Headband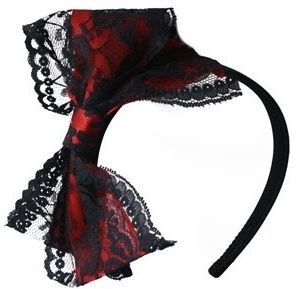 Price: $14.00 at shanalogic.com
Black and red is one of my favorite color combinations, especially when there's black lace involved. That's partly what makes this headband so gorgeous. It's a little racy, a little sexy, and would be the perfect addition to a little cocktail dress or similar outfit. Plus, it's handmade – what could be better?
---
3

Paisley & Floral Headband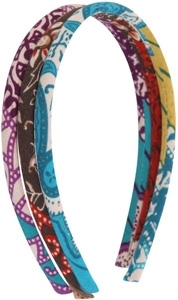 Price: $2.50 at forever21.com
What could be better than three for the price of one – and such a low, low price, at that! I love packaged headband sets; getting several different styles is always awesome. These headbands are pretty casual, just the right pop of color for any of your every day outfits!
---
4

Through the Wire Headband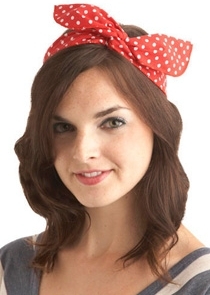 Price: $13.99 at modcloth.com
This happenin' headband has definite retro appeal, from the bow right down to the polka dots. It's a thicker sort of headband, something I could easily picture Lucille Ball wearing during an episode of "I Love Lucy," which frankly makes me like it even more. It's also incredibly flexible, so you can shape it any way you like!
---
5

L. Erickson "Enchantment" Headband

Price: $28.00 at shop.nordstrom.com
This headband is the perfect choice for a more formal occasion. Made of metal, it's extremely narrow and delicate, which makes the gems placed along it look like they're hanging suspended. This would look gorgeous with a little black dress, especially if you used it to accessorize a glamorous updo.
---
6

String of Sparkles Headband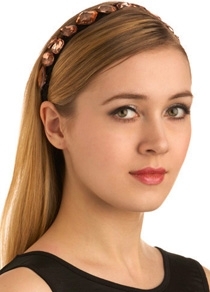 Price: $19.99 at modcloth.com
There's something extremely Bohemian about this headband, which is why I like it so much. You know how every girl needs one piece of chunky, funky jewelry? This is like the headband equivalent of that. It's just that – funky! The gems are actually pink, but are so faceted that they appear to be different colors at different times. You gotta love that kind of versatility!
---
7

Tasha "Infinity" Headband

Price: $38.00 at shop.nordstrom.com
I love the infinity sign; it's incredibly important to me for all it signifies. As such, it's no surprise that this one appealed to me. It, too, is ideal for a fancier night out, what with all those gorgeous, dazzling crystals. It's also available in a lot of different colors – the black is particularly lovely, the green is bright and lively, the pink and red options are ultra sassy, and the gold is just beautiful.
---
8

Thin Satin Floral Headband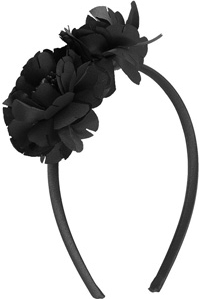 Price: $3.80 at forever21.com
I love headbands with a lot of embellishments – like this one! It's a fun piece, which could dress up a casual outfit or heighten a fancier one. The flowers are just the perfect touch, and there's something a little sassy about this piece, as well.
---
9

Don't You Bow It Headband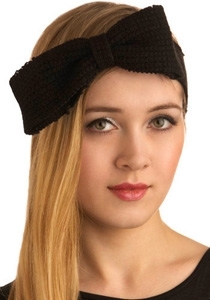 Price: $16.99 at modcloth.com
Here's another retro style happenin' headband. Almost a wrap, it's functional and fashionable with just the right vintage touch. It's simplicity itself, but sometimes that's really all you need in a band, you know?
---
10

Cara Accessories "Plastic Fantastic Links" Headband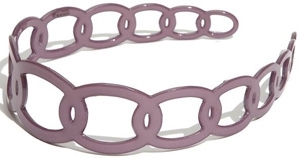 Price: $28.00 at shop.nordstrom.com
This headband is just a lot of fun. It's great for casual wear as well, but can add a little bit of funky, cool appeal to any outfit. It comes in several different colors too, but I'm especially wild about the purple option. That shade is so pretty!
I hope you liked these happenin' headbands as much as I do! I tell you what, I think I'm going to have to stock up on some of these for summer vacation! They're really great when you don't feel like doing much of anything to your hair. What are your favorite kinds of headbands?
---
Comments
Popular
Related
Recent