There's this idea that only girls with light hair, whether natural or artificial, can pull off all those vibrant, vivid hair colors that are so popular these days. That is absolutely not the case. Mind you, I say that as a brunette who just got a bunch of silver grey streaks put in her hair (love them, btw). It might take a little longer to prepare brunette hair for vivid hues, but we can seriously rock those eye-catching tresses. If you're a brunette on the fence, I hope these photos will serve as hair inspo. Get your bright on, girl!
---
1

Take a Look at This Vivid Green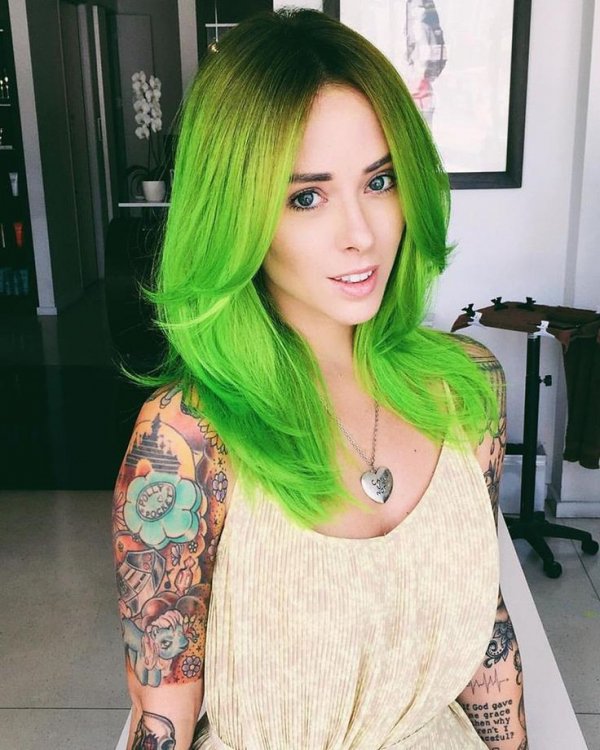 This is beyond green. This is venom green. It's absinthe green. It is stunning!
2

Or This Stunning Shade of Gorgeousness

I don't even know what you'd call this color, but I adore it. It's such a gorgeous jewel tone, and it complements her skin beautifully!
---
3

These Highlights

These streaks remind me of Rainbow Brite and I kind of really love that.
---
4

Just a Little on the Ends

You should try this if you're not really sure about dyeing your hair a bright color, but you still very much want to.
---
5

Plum(b) Pretty

Show everyone what a queen you really are with a royal shade of purple. Purple, by the way, looks divine in dark hair.
---
6

Half and Half!

Oh. Oh yes. Yes to everything about this. I could never do it, but I adore the way it looks.
---
7

A Waterfall of Blue

All those shades of blue and purple! This isn't quite the denim hair trend, but close. I'm a fan.
---
8

Wild Orchid

Didn't I tell you? About the purple, I mean.
---
9

Red Hot

Red looks amazing with brunette hair, as well – or you could also just go red all over. I love how you can still see flashes of dark hair in all that fiery red, though.
---
10

Color in the Middle

Wow. Wow, wow, wow. I've never seen this before, but I'm loving it.
---
11

Blue is the Warmest Color

But really, though. It really is. See how pretty this looks?
---
12

Think Pink – Lots of Pink

Her hair color is so on-point that it almost looks natural. Even though it's pink, I mean.
---
13

Green with Envy

Well, teal with envy, but you get the idea. This is another shade that almost always looks fabulous on or with brunette hair.
---
14

Oilslick

I think this is absolutely captivating. It really does look like an iridescent oilslick.
---
15

Cotton Candy

You can't ask for sweeter hair than this.
---
16

Deep Green and Gorgeous

Everything about this is pretty stunning, actually. I think this photo would make a beautiful painting.
---
17

Ombre, Subtle Style

This one is probably my favorite. I really do love that shade.

Brunette girls! Show off your bright locks!
---
Comments
Popular
Related
Recent