8 Ways to Deal with Dry Hair ...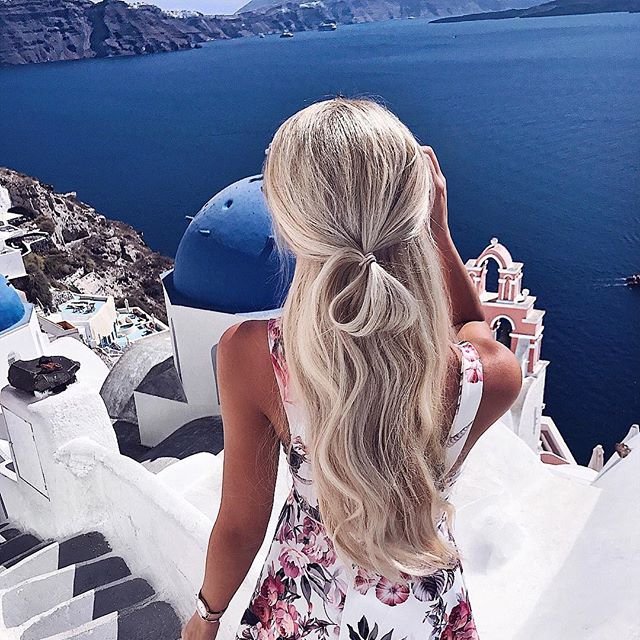 Dye, straighteners, curling irons and blow driers: these days we ask out hair to cope with a lot. While most of us are very careful about using protective, damage-limiting products, the effects of heat and chemical treatments will inevitably take their toll. Dehydrated hair is brittle, weak and difficult to style so that restoring lost moisture is a matter not just of health and aesthetics, but of convenience as well. If you're having trouble with frizziness and breakage, read on: I've done a little investigating and come up with a list of 8 ways to deal with dry hair.
1.

Be Aware of Your Environment
While for some of us, dry hair is a chronic problem and an issue we need to deal with all the time, for others it's largely a product of seasonal change and surroundings. A lot of women find their hair is drier and more difficult to manage during the in-between periods when summer fades into autumn, or autumn into winter, and still more battle with dehydrating effects of artificial temperature control. If you spend a lot of your time in an office environment, for example, it's important that you take steps to limit the damage that air-conditioning and central-heating can do to your hair.
Hair dressers suggest that one of the most common factors contributing to dry hair is over-washing. While it's obviously important to keep your hair and scalp clean, it's apparently not a good idea to shampoo every day. This strips hair of its natural oils and will ultimately result in dryness and fragility. Instead, we should, at most, be washing every second day; this strategy allows essential fats to regenerate.
3.

Choose Your Shampoo Wisely
This is a fairly obvious point, but one which it's important to mention nevertheless. You might be spending a ton on a fab, salon-grade shampoo, but that's not going to help you unless it's precisely the right formulation. Experts recommend using a shampoo with a low pH; these tend to be gentle and are often advertised as having the capacity to 'shut down the cuticle.' If you're unsure which product is best for you, talk to your hairdresser; he or she will undoubtedly be able to suggest something appropriate.
This may sound a little 'pernickety' but the quality of your water can play a role in drying out your hair. If you live an area where the water is high in chlorine, for example, you might just be subjecting your hair to a chemical stripping every time you step under the faucet. To rectify this (alarming) problem, simply get a charcoal filter and fit it to the showerhead. These are relatively inexpensive and available from all good hardware stores.
As with dry skin, hair that is fragile, brittle and prone to breaking may just be a sign that there's something missing from your diet. Try to include more omega-3 in your meals: stock up on nuts, salmon and eggs.
I haven't mentioned conditioner on this list and that's simply because I think the fact that it's necessary is just too obvious. I will say, however, that along with an appropriate shampoo and conditioner, it's also an excellent idea to invest in a good quality hair mask. Applied once a week, an intensely moisturising product can make a real difference.
We often forget that, like our skin, our tresses are also at risk from exposure to the sun. Too much UV can really destroy the cuticle and dehydrate our hair; to minimise the danger of sun damage simply get yourself a cute hat and wear it on the beach. Alternatively, you can scour the pharmacy for shampoos with added UV filters but to me, the first POA is the simplest.
Curling and straightening irons play a role in drying out our hair, and we all know by know that it's important to use this kind of appliance in conjunction with a protective product. It's also a good idea to allow hair to dry naturally, if possible, rather than frying it with a blow drier before wrapping it around red hot tongs.
Dry and damaged hair can be a real anxiety: it's temperamental and difficult to style, and let's just say that it looks and feels less than perfect. However, with the right combination of effective treatments and preventative measures, it is possible to restore a natural, healthy shine to your locks. This is my list of 8 ways to deal with dry hair; do you have more suggestions to add?
Top Photo Credit: Katelyn Fay
{{#comments_count}} Show Commnents ({{comments_count}}) {{/comments_count}}