If you're on the hunt for good, quality hair care products for kids, you've come to the right place! Finding hair care products for kids can be difficult since you want to use products with natural and safe ingredients, yet you also want them to be highly effective and easy to use. Well I hear ya, and I went on a search for some safe and effective hair care products for kids that they'll love to use. Check them out for yourself below!
---
1

Burt's Bees Baby Bee Tear Free Shampoo & Wash

Hair care products for kids should be gentle, natural and tear-free. Burt's Bees Tear Free shampoo and wash is all that and then some! This 98.08% natural shampoo and body wash uses coconut and sunflower oils, soy protein and sugar Esters to nourish, cleanse and soothe skin. Best of all, it's free of sodium laureth/lauryl sulphate, sulphate and paraben free! Find it at drugstore.com for $6.99.
2

California Baby Super Sensitive Hair Conditioner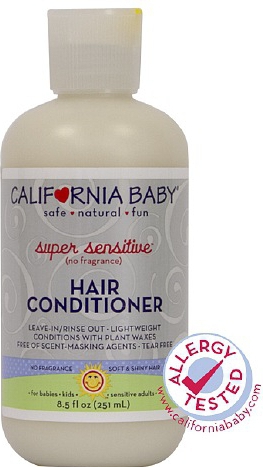 California Baby makes some of the best natural skin and hair care products around. The best part is, adults can use their products, too! The Super Sensitive Hair Conditioner was made for sensitive babies and can be used on adults with over-processed or chemically treated hair. It's fragrance free, plant-based and works to protect hair from the sun, chlorine and salt water! Get it at drugstore.com for $11.99.
---
3

Circle of Friends Bonita's Banana Detangler

The Circle of Friends brand makes hair care for kids fun with their multi-cultural characters and stories! Your kids will enjoy learning about each character and their culture while using high quality skin and hair care products created by moms! Bonita's Banana Detangler is just one of the many fun and effective hair care products designed to detangle kids' hair and leave it smelling great! Find it at cofbath.com for $11.40.
---
4

MIXED CHICKS Kids Leave-in Conditioner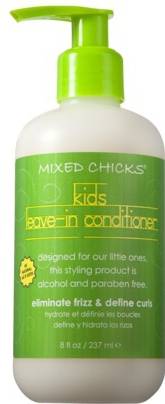 If your little one is lucky enough to have curly hair, this leave-in conditioner can help define those cute curls and reduce frizz from styling! Even kids with straight hair can benefit from this nourishing conditioner that is formulated without alcohol or parabens and won't hurt your little one's eyes! This is another kid's hair care product that works fantastically on adults, also! Find it at target.com for $12.99.
---
5

Babo Botanicals 3 in 1: Bubble Bath & Shampoo & Wash

This kid's hair care product reminds me of Philosophy for kids. It's a 3-in-1 product that you can use as a body wash, shampoo and bubble bath! While it might not have the same yummy fragrances as Philosophy, it's formulated without sulphates, chemicals or phlalates and it's dairy and soy free! Your child will love adding this gentle, calming formula to their bedtime routine! Find it at ulta.com for $16.50.
---
6

Circle of Friends Lice Defense Hair Spray

Lice is something we don't like to think or talk about, but it's something to be aware of! With Lice Defense Spray, you can naturally prevent the presence of lice by shielding the hair shaft so lice aren't able to attach their eggs! Made with lavender, tea tree and andiroba oils, this gentle spray will protect and keep lice away the natural way! Find it at diapers.com for $15.89.
---
7

JASON Kids Only! Extra Gentle Shampoo

JASON has a line of hair care, foaming soap, bath gel and toothpaste that's made just for kiddos! They have an extra gentle shampoo and conditioner that's made to be gentle on sensitive scalps while being tough on dirt. Kids will love the yummy bubble gum scent and you'll love the tear free and natural ingredients! Find it at jason-personalcare.com for $9.78.
Kids have special hair care needs and these products can help make kids' hair care issues a little more manageable! Your kids will love the delicious fragrance and having their own special hair care products made just for them! What hair care products do you like to use on your babies?
---
Comments
Popular
Related
Recent