Every girl has those moments when she feels like her hair is so drab, but doesn't want to do anything drastic at the salon, so commitment-free hair products are the perfect solution! They allow you to change up your look for as much or as little time as you please. Not sure where to start? Here are my picks for the best commitment-free hair products to give your 'do a little boost.
1

Comb in Color

Have you ever wanted an electric blue streak in your hair but don't have the guts to color it permanently? If so, comb in color is the perfect option! This is a great way to try out a daring color before visiting the salon and making it final. Comb in color is also a great way to represent your favorite sports team on game day or spice up your look for a night out with the girls. This color works best if you have blonde hair, however comb in color will leave a slight tint on brunette hair. What's great about this set of commitment-free hair products is that they rinse out in just one wash!
2

Hair Chalk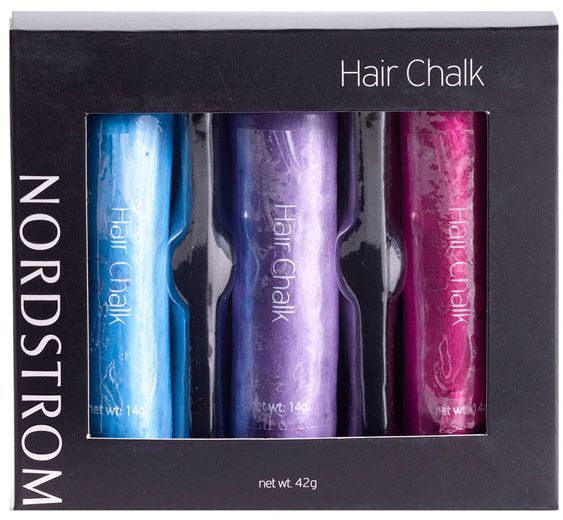 shop.nordstrom.com
Another fun and easy way to add a commitment-free pop of color to your locks is hair chalk. It has the same feel and consistency as sidewalk chalk, only it's made safe for your hair. What I love most about hair chalk is the ease of use and immediate results. With dye, it can be hard to tell what the final color is going to turn out to be, but there is no guessing with hair chalk! You can use more pressure to get the color to go on darker, or less to make the color appear subtle. Hair chalk is less messy than dyes and washes out in just one shampoo. Once you have reached the desired effects, simply set your new 'do with hairspray and go show off your fun new look!
3

Hair Tinsel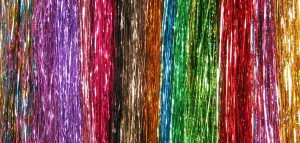 With all the different hair extensions available on the market, hair tinsel has to be my favorite right now! Celebrities such as Beyoncé and Lady Gaga have been spotted with this commitment-free hair trend. Hair tinsel is a fun and flirty way to jazz up any outfit! The best part about this carefree trend is that the tinsel bundles only cost a couple of dollars. This gives you the financial flexibility to play around with several different colors to really change up your look!
4

Glitter Hairspray

I had a bottle of glitter hairspray as a kid so I am especially excited to see it coming back in style. I believe you are never to old to accessorize with glitter, which makes this one of my favorite commitment-free hair products! This glitter hairspray also doubles as a body spray so you have the option of subtle shine or full on glitz!
5

Hair Mascara

Hair Mascara is another way to add a splash of fun color to your tresses. This commitment-free product gives you optimum control since you put the color on with a wand. This allows you to have colorful strands as thick or as thin as you please! After this product dries, it has the ability to stay on your hair for up to two days, but washes out with one shampoo. This is the perfect product for ladies with brunette or black hair because this product is designed to show up on any hair color!
6

POP Color Temporary Color Spray

Rita Hazan started the POP color trend on Katy Perry. Since then, she has had clients knocking down her salon doors for their own customized hair colors. Since we can't all go to Manhattan to get our hair done, Rita developed POP color so we can all have fun with our hair. This aerosol can is perfect for getting all over color, bold highlights, or colored tips. This commitment-free product is guaranteed to show up on any hair color and comes in 3 beautiful shades.
7

Animal Print Hair Extensions

I'm going to call it now, animal print extensions are going to be the next big thing in hair! What makes this product so great is that it clips into your hair with ease making this product completely commitment-free. You can sport your favorite animal with prints varying from tiger, leopard, or zebra and you can find these prints in every color of the rainbow.

Whether you are wanting to try out a daring new color before making it permanent or just want to add a little spice to your tresses for a night, these commitment-free hair products make it all possible! Will you be trying out any of these products? Do you have a go-to product for fun hair, if so what do you use?