Sunscreen for hair is a product a girl simply has to have at hand in summer regardless of her plans for the holidays or the lack of them! Now, as you probably know, hair care and SPF are very closely connected which means that you can't hope to succeed with the first if you forget to do the second! That's why I've decided to list a few different hair products with SPF to help you care for your hair all summer long, regardless of where you plan to go or what you plan to do:
---
1

TRESemme Climate Control Finish Spray

Price: $4.79 at amazon.com
Control, shine and protection – TRESemme Climate Control Spray is just what a working girl needs during summer. After all, you want your office-ready hair looking good throughout the day just as you want your hair protected against UVA and UVB rays. Right? Well, give it a shot then because it's one of the most praised styling hair products with SPF!
---
2

L'Oreal EverPure Spray

Price: $8.19 at amazon.com
This wonderful sulfate-free sunscreen for hair will help your color-treated tresses get all the necessary protection and conditioning and none of that unpleasant fading effect that usually follows! And if you think that's neat here's another piece of info to make the deal even sweeter – The solution is water-based and super lightweight which means you can kiss the other unpleasantries (such as sticky or greasy hair) good bye and enjoy your moments spent outdoors!
---
3

Pureology anti-Fade Complex

Price: $9.99 at amazon.com
Next on my list of noteworthy hair products with SPF is this restorative, nurturing complex that offers much more than just protection! A combination of natural ingredients and essential oils will moisturize and condition your hair while its anti-fade complex promises to leave your colored hair lustrous and color rich! But that's not all! Formulated to smooth out cuticles and seal the hair shaft, this fab Pureology product will also prove to be an irreplaceable styling aid that makes detangling easier and your hair dos long lasting!
---
4

Aveda Sun Care Protective Hair Veil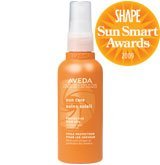 Price: $24.50 at amazon.com
Green tea extract, organic flower seed oil, vitamin E, Shea butter and palm&coconut oil are blended together to bring you yet another awesome sunscreen for hair! Praised by many and often recommended by magazines, Aveda Hair Veil offers up to 16 hours of protection against all bad stuff your hair is exposed to while your chilling in your sun bed, or having fun hiking or camping!
---
5

AG Hair Cosmetics Conditioning Mist Detangling Hair Spray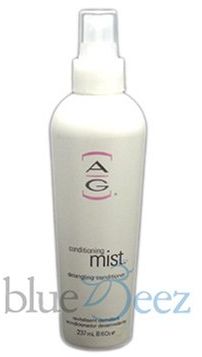 Price: $20.99 at amazon.com
Speaking about hair care and SPF, here's a cool everyday hair care product you'll find very useful! AG Mist detangles, conditions without leaving residue, protects and nurtures hair, it can be applied over and over again and used for skin too! Pretty impressive, isn't it? Well, I don't know about you but I'd say this magical bottle is something a girl should have at hand all summer long!
---
6

Ojon Sustan Gloss Finishing Spray

Price: $39.99 at amazon.com
Finishing Gloss Spray by Ojon is a piece that completes the puzzle called "glamorous hair"! And whether it's a beach wedding, a teambuilding holiday in your company's resort or a date you need to look your best for, you can rest assured this product is going to help, leaving your Hollywood hair soft, supple, shiny and, of course, protected!
---
7

AG Hair Cosmetics Fast Food Leave on Conditioner

Price: $24.90 at amazon.com
The last but not the least – this fabulous leave in conditioner with sunscreen for hair will be an ace you won't wish to keep hiding up your sleeve this summer and probably the only fast food you'll want to indulge in as often as possible! Keratin and silk proteins infused with Aloe Vera will condition your hair like a charm without weighting it down which is perfect in case you have oily hair and are trying to find a product that's nurturing yet allows you to enjoy the feeling of clean, oil-free hair for more than just a few hours,
So, ladies... time to ask you the all-important question! Do you use a sunscreen for hair often and which are your favorite hair products with SPF?
Top Image Source: pinterest.com
More
Comments
Popular
Recent