If you want to add an instant lift to your hairstyle, why not accessorise with some hair clips? They look great and are also functional. They certainly come in handy for keeping stray hairs off your face. Below are some cheap and cheerful options for you to check out.
---
1

Forever21 Wild Things Clips

Price: $1.50 at forever21.com
This set of two hair clips is just fantastic. These chiffon rosette clips will add a bit of daring to your hairdo. I love a good animal print, and the zebra and leopard patterns on these are no exception. These would look great pinned next to a low bun.
---
2

Asos Velvet Bow Clips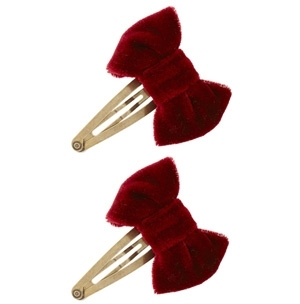 Price: $5.38 at asos.com
These velvet bow clips are so stylish! The red velvet is very regal. The gold tone clips accent the red velvet perfectly. These would suit all hair colours, and be great for pinning back a fringe.
---
3

Forever21 Flower Hair Clips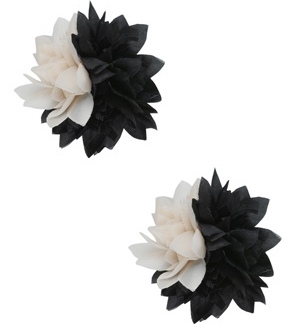 Price: $2.50 at forever21.com
These flower clips are so elegant. They consist of a multi layer flower embellishment and pinch style hair clip. The black and white colour combination is quite classy. These clips would be the perfect way to add a touch of sophistication to your look.
---
4

Forever21 Lace Bow Bobby Pins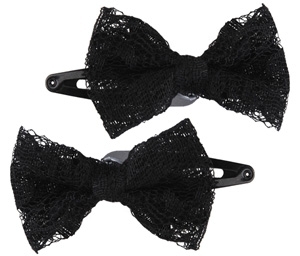 Price: $2.50 at forever21.com
Lace will never go out of style. Stay on top of the trend by wearing these lace bow clips in your hair. They provide a demure way to add a touch of lace to your outfit. They come in a set of two, so wear them one at a time or both at once. The choice is yours!
---
5

Cara Accessories Animal Clic Claq Hair Clip

Price: $8.00 at shop.nordstrom.com
This animal print hair clip seems simple in design, yet it still makes a statement. I love the zebra print pattern. This clip will help you unleash a bit of your inner animal. It's perfect for every day wear.
---
6

Forever21 Metallic Bow Clip

Price: $2.50 at forever21.com
These rhinestone covered bow clips are amazing - even the price point! They're perfect for adding a touch of bling to your hairstyle. Wear them day or night. They are available in three different colours, and you can collect all of them and still be under budget!
---
7

Baby Deer Hair Clips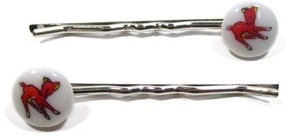 Price: $8.00 at shanalogic.com
The baby deer prints on these clips are just adorable. Bambi, anyone? I love the simple yet quirky design. These delicate clips would be perfect for pinning back a fringe or even just as decoration.
Which of these are your favourites? How would you wear them?
More
---
Popular
Recent