10 Hair Tips for Rainy Days ...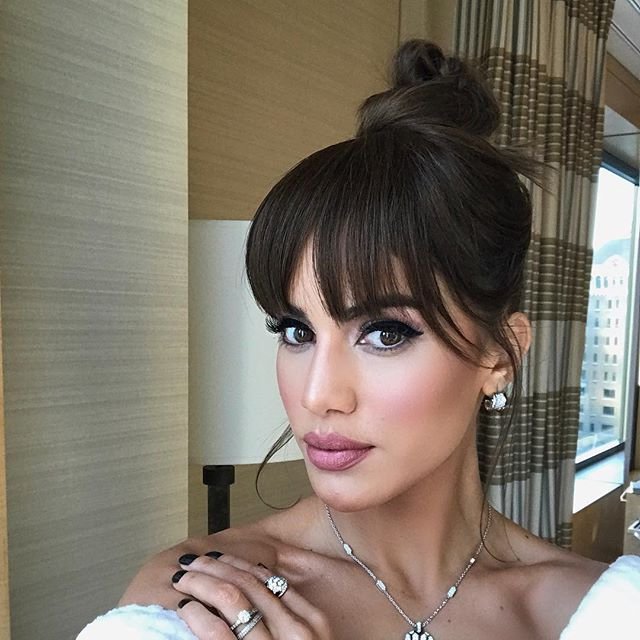 You've just spent half an hour straightening your hair when you hear that first ominous roll of thunder, and you wish right then and there you had a long list of hair tips for rainy days to keep your hair from going flat or frizzy. Well, my darling, I can help! After experimenting with various means of keeping my hair sleek and straight (or at least cute!) in the worst rainy weather, I've got that list for you. Here are 10 hair tips for rainy days… put down that flat iron and let's go!
1.

Start with a Heat Protectant
The first tip for accomplishing sleek, shiny straight hair on even the dampest of days is to start with a heat protector, while your hair's still damp. I love the Macadamia Heat Protection Serum by Carol's Daughter, but if you prefer a spray rather than a serum, try Bumble & Bumble's Prep.
2.

Blow It Completely Dry
This hair tip for rainy days makes sense, when you think about it. Before you put the hair dryer down, make sure your hair is completely, absolutely desert-dry. I'm guilty of turning off the dryer before m hair's quite dry, because I get lazy, but on a rainy day, this is sure to spell frizz-type disaster.
3.

Use an anti-frizz Serum
Ah, yes, speaking of frizz, now is the time to break out your favorite anti-frizz product. My favorite is Ouidad's Climate Control Frizz & Flyaway Fighter Taming Shine Spray… it does exactly what the name implies… but if you have another fave, go for it! Apply with a light hand, and let's move on to our next rainy day hair tip.
4.

Don't Overdo the Product!
Remember when I said to apply your anti-frizz product with a light hand? That goes for any product you'll use on this ultra-humid frizz-inducing rainy day. Aside from your anti-frizz product, all you'll need is a very light mist of finishing spray.
Now that you've finished drying, flattening, and spraying your hair, you're ready to go, right? Nope. Let's wait about five minutes to make sure your hair is completely cooled (sealing the cuticle to fight frizz) and dry (from the little bit of product you've used). Now's the perfect time to search for your favorite wellies and umbrella! After the five minutes is up, you're ready to go.
Perhaps this hair tip for rain days doesn't even need to be mentioned, but rather than destroying your lovely sleek do by wearing a rain hat, opt for an umbrella instead. I don't care how cute that hat is, unless you plan to wear it all day, leave it at home.
As you head out the door, your first instinct may be to touch your tresses and see how they're holding up. Don't do it! The oils from your hands will encourage your hair to frizz, and that's the LAST thing you want!
What if you don't have time to re-do your hair into its usual straight sleekness? Maybe it's time to try this rainy day hair tip, and embrace this summer's Katniss-inspired braid trend. Pull your hair back into a pretty French braid, or pull it over one shoulder in a loose, breach-y herringbone or fishtail. Gorgeous! Let the rain fall!
Not too sure of your braiding skills? Then opt for a simple updo, like a messy bun or even just a cute, sporty high ponytail. In fact, the ponytail may be an excellent way to channel a little Olympic sportiness and support your favorite athlete this summer! It's rain in London, too, you know…
My boyfriend swears I look sexy when I've been unprepared for a summer deluge and get caught in the rain. If you're not on your way to the office, or anywhere special, why not let the warm summer rain dampen your tresses? Your man might like the look, too…
Now that you know how to handle your hair on a rainy, humid day, do you feel more confident, or are you still fearful of frizz? Be bold, sweetie, these hair tips for rainy days are all tried and true! Which of these tips surprised you? Do you have another rainy day hair top to share? Please do!
Top Image Source: pinterest.com
{{#comments_count}} Show Commnents ({{comments_count}}) {{/comments_count}}