Hairstyles for work can't be too messy, too «latest fashion» or too casual which, of course raises an issue of work appropriate hairstyles that are still nice, chic and as away from being boring as possible! Well, let's talk about these today! And here are a few great work appropriate hairstyles to try:
---
1

Loose Locks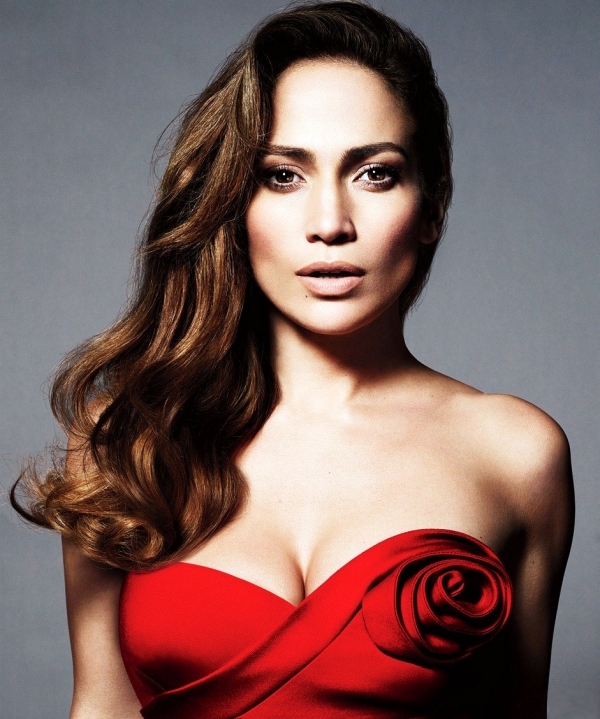 This simple yet very chic hairstyle for work gives out the impression of a person who is very serious about its job yet respect both the profession and own self too much to allow bad hair. The downside to it is the fact that you will have to use a wide barrel curling iron but the upside is that it won't take more than 15 minutes to create the look. Simply section the hair into 4 to 6 larger sections then curl the bottom halves only. Fold the curls as you remove the curling iron, pinning them close to your head to allow them to cool off completely. Once you're done and your curls have cooled off, spray with hairspray, let the curls down, shake them a bit and use your fingers to separate them (if needed) and style.
2

Neat Half up do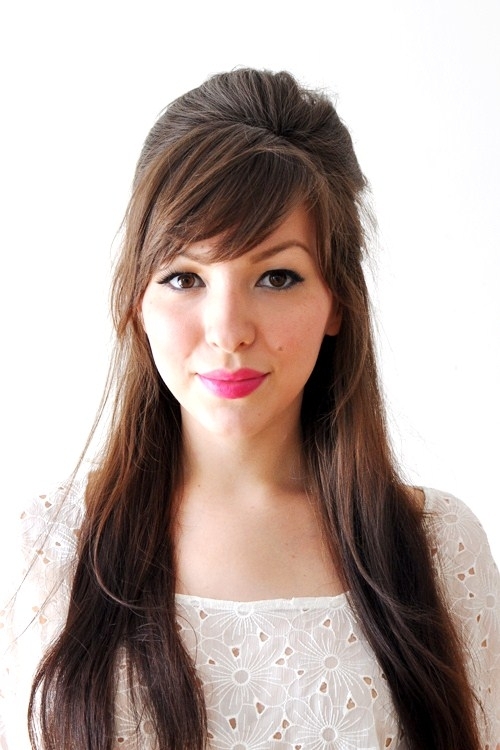 If your hair is extremely curly, you might want to opt for work appropriate hairstyles that allow you to sleek it back thus putting the focus back to your face. Now, since curly hair is a wonderful asset on its own, you won't have to do much more than to make sure your curls are absolutely perfect. Simply spritz on your favorite curl enhancer, let it dry off then sweep the top section back and pin it down using a nice pin or a barrette.
---
3

Gentle Tousle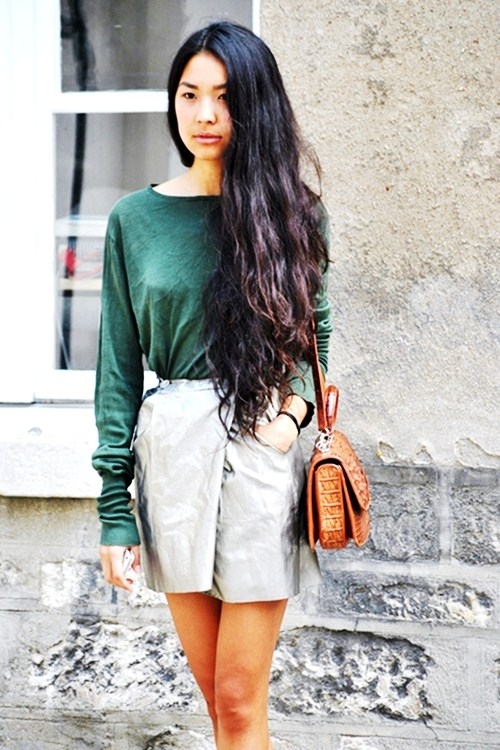 Straight, shoulder-length hair looks best when worn loose and with just a hint of different texture! Apply volumizing mousse on your half-dried hair, work it into your roots and secure your hair up, coiling it in a bun that isn't too tight to pull your hair but is coiled enough to allow the ends to curl loosely. Let your hair dry, apply some hairspray then let it down, do a side parting and insert a nice-looking bobby pin.
---
4

Zigzag Bob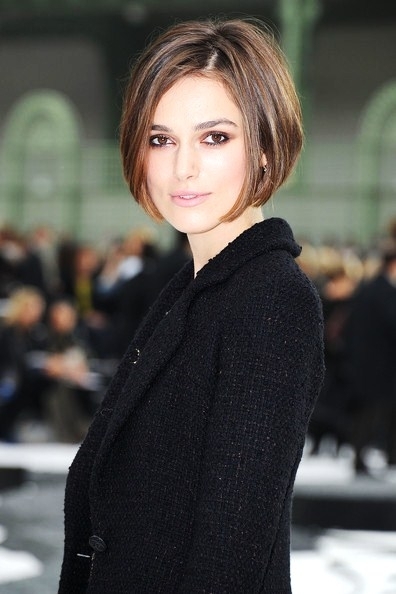 If you your hair is short and you're currently rocking a bob or even a longer pixie cut, you definitely want to try zigzagging your parting! This definitely falls under the category of playful yet professional hairstyles for work that will enable you to show that you're a fun person who can think outside the box! Except being a good way to update a short cut, this hairstyle actually makes your hair look fuller and bouncier which means that you're more than welcome to rock it in any other occasion as well!
---
5

Sleek and Classy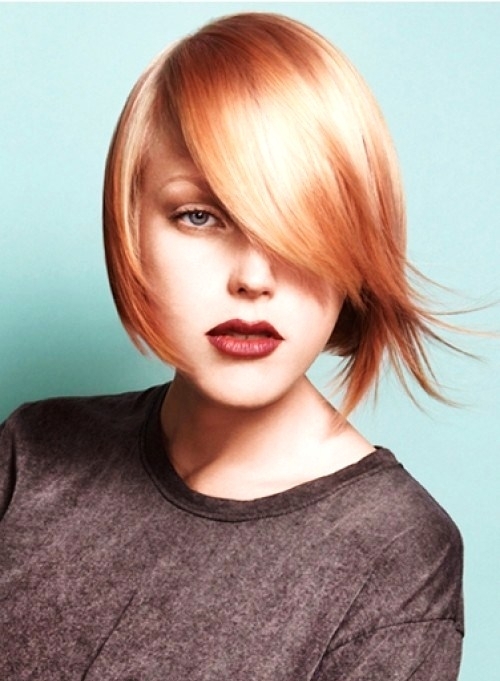 Long, short, medium or layered – straight, shiny hair is always a good hair style for work! And if you happen to have curly or wavy hair, flat ironing it will actually prove to be a nice change. This 'do isn't loud, it doesn't crowd your face and looks absolutely professional and chic but, before you decide to go with it, you absolutely must deep condition your hair and get rid of any split ends.
---
6

Classy Pony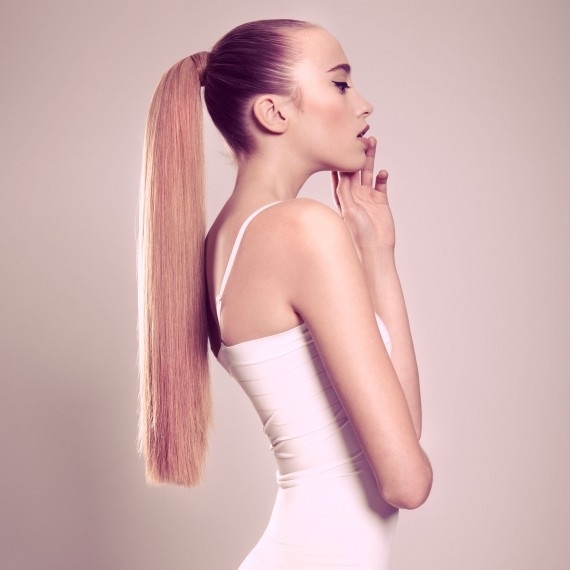 Often seen as leisure hairstyle, a ponytail enables you to wear your long or medium, straight or wavy hair casually pulled back. But is there a way to make it work as a professional hairstyle? After all, you don't want to look like you've been shopping for groceries and thought, «Oh, let's stop by the office» – do you? No worries, there are plenty of ways to work a ponytail and one of my favorite, easy tips would be to simply pull your hair back into a neat low or high pony but leave out one section of hair at your nape. Secure the pony with a band, then simply wrap the loose section around the base, to hide the band and give your ponytail a glamorous, work –appropriate finishing touch.
---
7

Chignon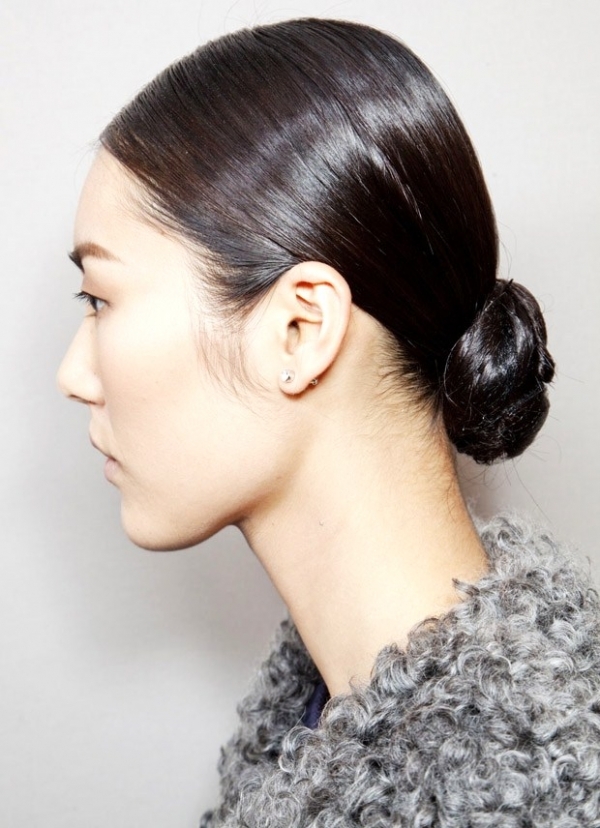 Next on my list of easy to do yet incredibly chic hairstyles for work is a chignon, a.k.a – a perfect replacement for your good old bun! Simply tease the hair on your crown, comb it back neatly then roll your hair inwards making sure your ends are tucked in and secured with as much bobby pins you need! Secure this up-do by coating it with a layer of hairspray and voila- you're done! Sounds too complicated? Get a practical, bendable so called-magic sponge and your work is half done!
---
8

Side Braid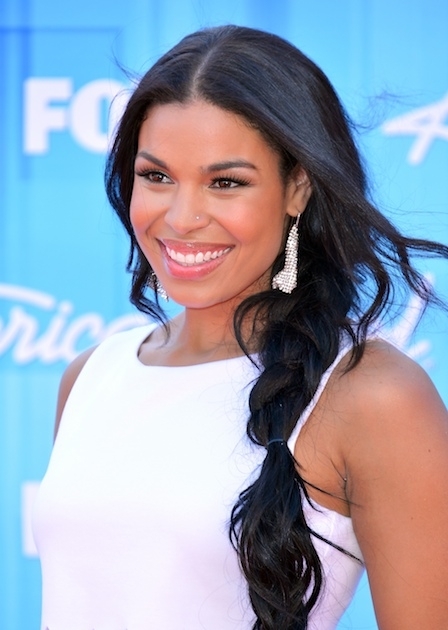 Braids are quick, easy and totally cute for work. The great thing about braids is that they work with just about any texture of hair and as long as you have a hair tie-you're good to go! Create your usual part and pull your hair to one side. Next, create a low, messy braid and secure the end with a hair tie.
---
9

Sleek with a Deep Part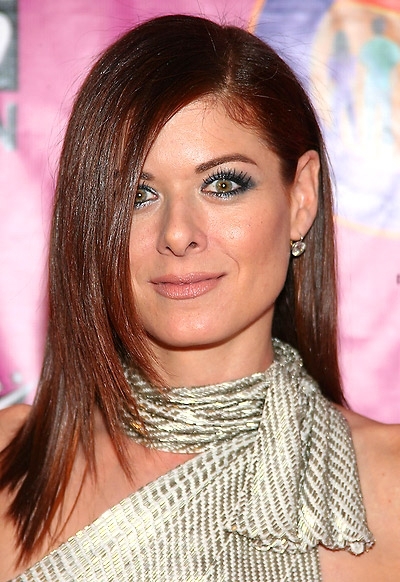 Wearing your hair down is usually my go-to style, but it can get pretty boring after the umpteenth time. Jazz things up a bit by creating a dramatic deep part. I know it seems too simple to really make a difference, but it really does! Your part can totally change the way you look and a deep side part look sophisticated and put-together. Add some de-frizzing hair product to your dry hair. Next, make a deep part with a comb and straighten all of your hair and slightly flip out the ends of your hair with your flat iron. Lastly, tuck the hair on the same side of the part behind your ear and you're set.
---
10

Braided Bangs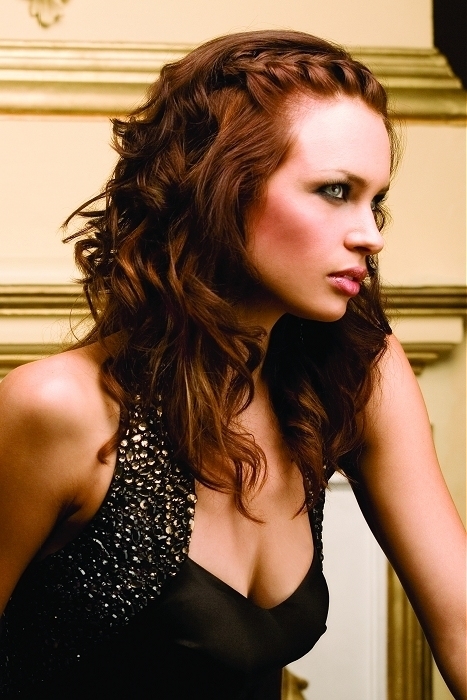 Another way to wear your tresses down but add a fun detail is to braid your bangs. I think this particular style is super cute in an understated way. Brush all of your hair so it's smooth and free of tangles. Part your hair, then separate your bangs from the rest of your hair and brush your bangs forward. You can use a hair tie and make a low ponytail to separate your hair. Next, pull your bangs to the opposite side of your part and divide them into three equal section of hair. Start braiding your hair and braid it all the way down by your ear or longer if you desire. Then, take a bobby pin and secure the end of the braid in place. Undo your ponytail and it will cover up the end of your braid.
---
11

Slicked Back Half-updo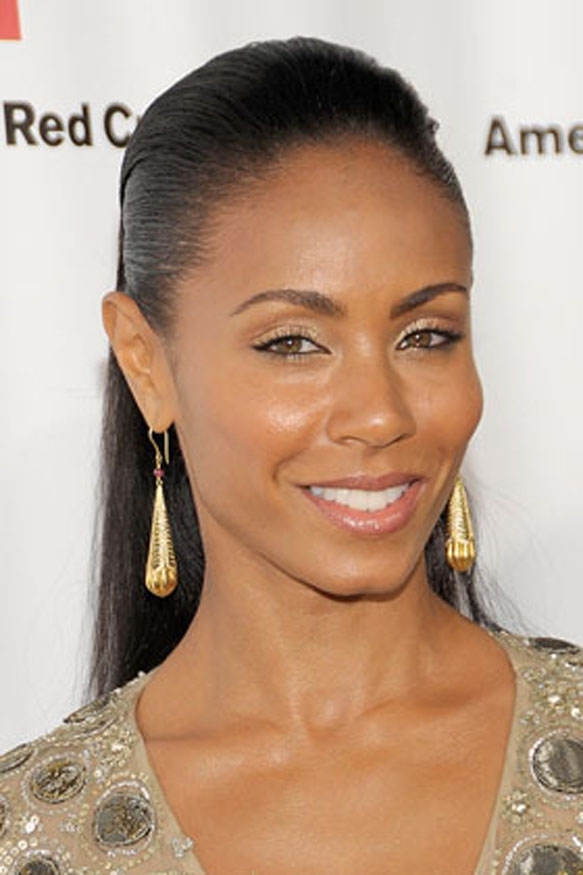 This professional hairstyle is a chic and sleek take on the traditional half-up, half-down 'do. Start by straightening all of your hair unless you're lucky enough to have super straight hair. Follow up by applying a holding gel or other styling product to the top, front and sides of your hair for the slicked back look. Comb the front and sides of your hair back and secure the sides of your hair with some bobby pins to keep them in place. The final step is to spritz some hairspray to set it all in place!
---
12

French Braid

A side braid is professional and easy to pull off, but so it a French braid. To create this look, grab a small section of hair at the top of your head and divide it into three sections. Braid it down the middle, capturing a small amount of your loose hair each time you weave a section. Make sure all the loose hair has been used by the time you reach the bottom of your ears. Continue braiding until you reach the end of your hair, then secure it with an elastic.
---
13

Wear a Headband

If you prefer wearing your hair down at work, you can keep it out of your face and create a polished look with a headband. The trick is not to choose a huge thing with a big flower of floppy bow. Something understated is much more professional. A thin plastic band that is close to your hair color is perfect. Color is fine too, provided it's not gigantic and doesn't sparkle like a disco ball.
---
14

A Bun

Similar to chignon, a bun is a slicked back look that is great for anything, including the office. Pull your hair back into a ponytail at about the middle of your head and secure it with an elastic. Wrap the ponytail around your elastic, then secure the ends with a couple of bobby pins to keep them in place.
---
15

Top Knot

You might think a top knot is only for the gym, but you can pull it off for work too as long as it isn't too touseled or messy. Keep your top knot contained with a headband or pretty barrette. This is a great choice for a laid back day at the office.

Need a professional hairstyle? Well, you should definitely give these a shot! But, tell me ladies – do you have some of your own favorite hairstyles for work to share?

This article was written in collaboration with editor Lisa Washington, and editor, Eliza Martinez
---
Comments
Popular
Related
Recent