It's summer, the ideal time to think about ways to wear flowers in your hair! They can add romance, a little Boho charm, a little nod to Mother Nature… whatever look you're going for, I can help! Here are 7 stylish ways to wear flowers in your hair, all under $10! Let's have a peek.
1

Rosette Trio Headband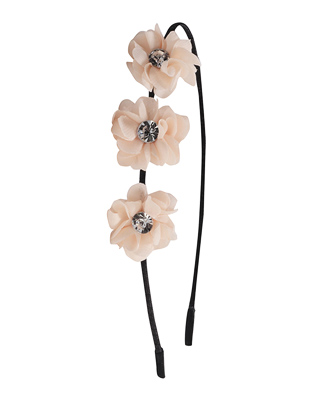 Price: $3.80 at forever21.com
Bad hair days can take a back seat with this darling triple-flower headband! This is my very favorite way to wear flowers in my hair. The headband makes it easy to wear flowers with an updo or a long, loose down-your-back style. I especially love them with short curly bobs and sleek ponytails. Pretty!
2

Beaded Rosette Hair Pins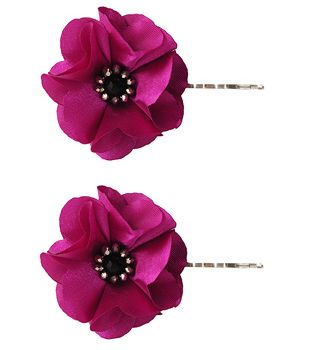 Price: $2.50 at forever21.com
Braid your hair down your back in a loose French or herringbone, then slide these little clips in randomly, into the braid. They some in four rich colors, but I like the purple best… it's so exotic! And I love the extra glimmer and shine from the beads in the middle.
3

Polka Dot Rosette Clip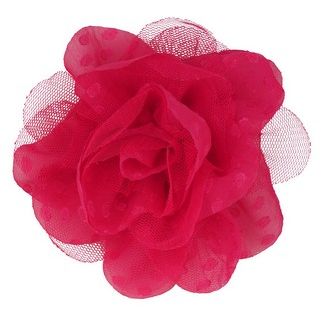 Price: $3.80 at forever21.com
Available in three summer-ready colors, this single sheer rosette is an ideal way to wear flowers in your hair with a ponytail! Scrape your hair back into a high ponytail, then clip this to one side of it. Or, braid your bangs back, and use this clip to keep them tucked behind one ear. Gorgeous… and ideal for summer!
4

Rosette Headwrap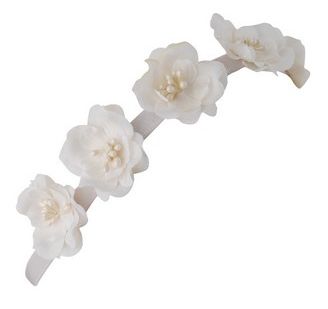 Price: $7.80 at forever21.com
Wouldn't this be a beautiful way to wear flowers in your hair on your wedding day? Bump your hair in back, then use this pretty band to hold your hair away from your face. It works with sleek straight flat-ironed styles or with romantic loose curls.
5

Romantic Rosette Headwrap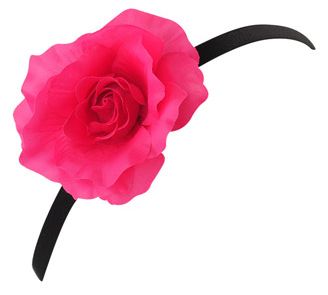 Price: $2.80 at forever21.com
The name really says it all, doesn't it? The black band makes this headwrap a must-have for gals with darker hair (it might look too bold on blondes), and the bright pink flower really makes a pop! Tease your hair, then bend upside down at the waist, slide on this wrap, then finger-comb and spray your hair to make it stay. Perfect for lunch with the girls or for a night at the club! Or go with what the name implies and choose the cream rosette, slide the wrap in with loose, beachy waves, and add loads of mascara to your lashes for extra flirting.
6

Rosette Headwrap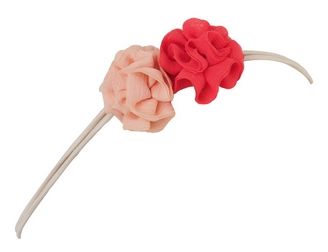 Price: $3.80 at forever21.com
Two peaches-and-cream flowers make this head band one of the easiest ways to wear flowers in your hair! Hide the band, of possible, by setting your hair with Velcro rollers and using your curls as camouflage. The twin flowers will appear to float in your hair… such a pretty effect!
7

Beaded Rosette Hair Clip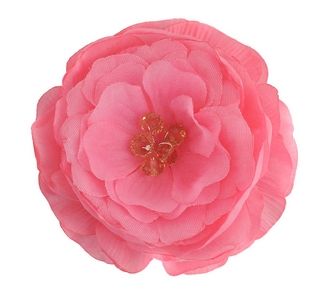 Price: $3.80 at forever21.com
How very sweet! Sweep your hair into a low messy side bun, then clip this behind your ear for an easy, not overdone way to wear flowers in your hair for date night. It comes in five colors, from orange to cream (including this pink), and features a single-clip style and a beaded center.
With so many cute clippies and bands, there are so many ways to wear flowers in your hair this summer… however will you choose just one? Well, with prices this low, you may not have to! Have fun mixing it up, trying new things, and still have a little money left for date night or girl's night. Which of these cute clips will you try first? And how will you wear these flowers in your hair? Do tell!
Top Image Source: weheartit.com