COMMENT
I love ponytails! Some people think they're plain, but I think they're so pretty, whether they're sleek and perfectly formed or messy and casual. Besides, it's easy to make a ponytail look incredibly chic, sexy, or even formal. All you need are accessories like these to liven up your ponytail!
1. Fantastic Flower Jaw Clip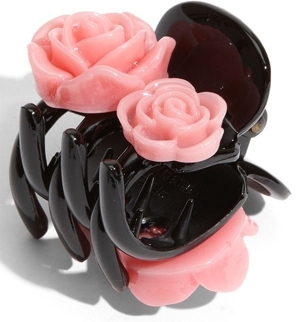 I love jaw clips all on their own, but they are especially pretty when they're embellished like this. This is Cara Accessories, which I love, and those roses are just gorgeous. This particular clip comes in a variety of colors, including white, black, lime green, and bright blue. With something like this, you can use it to make your ponytail or you can pull your hair back with an elastic and then clamp this over it.
2. Perfect Fifth Hair Bow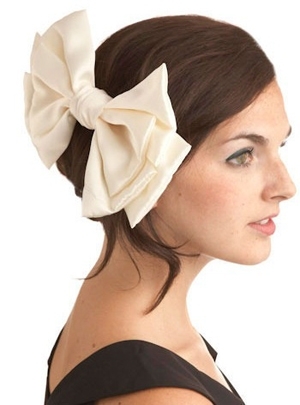 Hair accessories are getting bigger in general. You want something large and edgy and eye catching. Hair bows are getting especially popular, because you can stick them anywhere in your hair, and they make a great accent for a ponytail. You can place it like this, or clip it right above your ponytail. In fact, if your hair's not too thick, you can actually pull it back with this.
3. Hair Extensions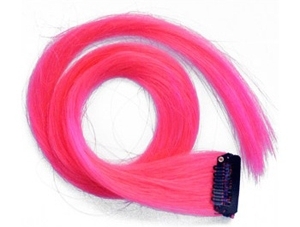 There's no reason to spend a fortune on hair extensions if you don't want to wear it all the time, but a brightly colored, single piece extension can really brighten up a ponytail. I just chose hot pink because I like it, but there are tons of different colors. Sure, it's not exactly going to look like natural hair – but in a shade like pink or purple or green, it's not going to look natural anyway! It's a fun piece to stick in when you want a wilder look – although there are plenty in more natural shades as well.
4. Bow with the Flow Hair Clip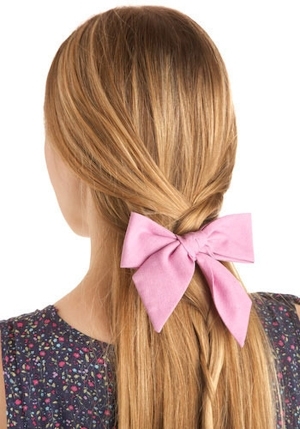 As mentioned, hair bows are getting all kinds of popular again. This bow is secured to a barrette style of clip. Again, it can go in your hair to simply accentuate a ponytail, it can go above your 'tail, or you can use it by itself to pull your hair back. This one is lovely and sweet and feminine, so it will look especially lovely with a pretty dress or skirt.
5. Charms Elastic Hair Bands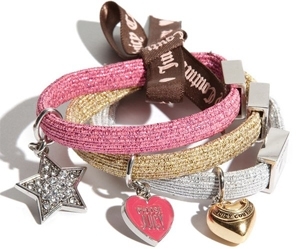 These elastic bands are from Juicy Couture, and I think they are so pretty! You get the full set of three as well, so that's awesome. Nobody seems to mess with elastics anymore, so I was really excited to see this trio, which comes in different colors. Here you get pink, silver, and gold, but you can also get a pack of darker pink, dark blue, a platinum/silvery sort of grey or a set of pastels in pink, baby blue, and creamy yellow.
6. Proud Peacock Clip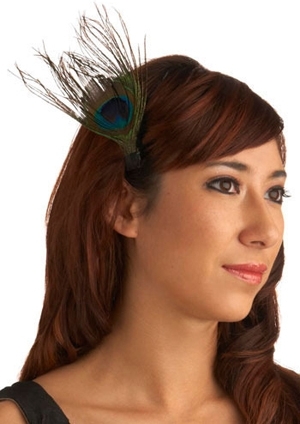 I love this clip! Peacock feathers can be pretty tricky to pull off, but this one is simplistic enough to be perfect. As you can see, you don't have to wear your hair up to rock this clip, but I think pulling your hair back and wearing it like this would look really great. It makes a fantastic accent piece and can make any ponytail look both chic and edgy.
7. Vintage Blossom Bobby Pin & Barrette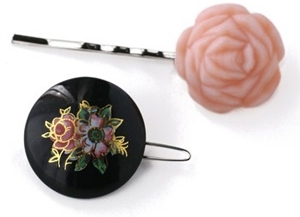 Bobby pins are always excellent additions to a ponytail. You can use them to hold back stray tendrils of hair or they can just be accent pieces. I love this duo because of their vintage, antiquated look. The creamy rose on the bobby pin and the beautifully rendered flower design on the barrette are incredibly gorgeous, and complement each other extremely well.
8. Tropical Flower Hair Clip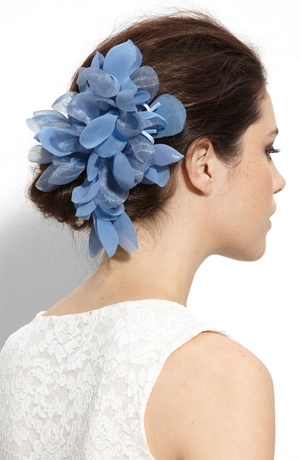 Flower clips are becoming really popular in the wide world of hair accessories. They look both edgy and elegant, and this clip, which is also from Cara Accessories, is an excellent example of that versatility. The flower is made of chiffon and organza, two gorgeous materials. You can get this piece in black, a lovely, dusky blue, or a delicate, pretty shade of lilac.
40 Best Inexpensive 🎁 Gift Ideas for Your Boyfriend 💑 ...