Finding the best hairstyles for round faces is essential for choosing something that flatters you. Round faces are extremely pretty and feminine, with plenty of soft curves and contours. Play up your features by experimenting with haircuts for round faces specifically. There are quite a few of them – more than you might expect, in fact. By no means should you think you have to rely on just one or two. Remember, it's not just about the cut itself, there are things you can do in terms of styling your hair as well. With options for long, short, or medium length locks, check out these options to get the right hair for round faces.
---
1

Mixed Layers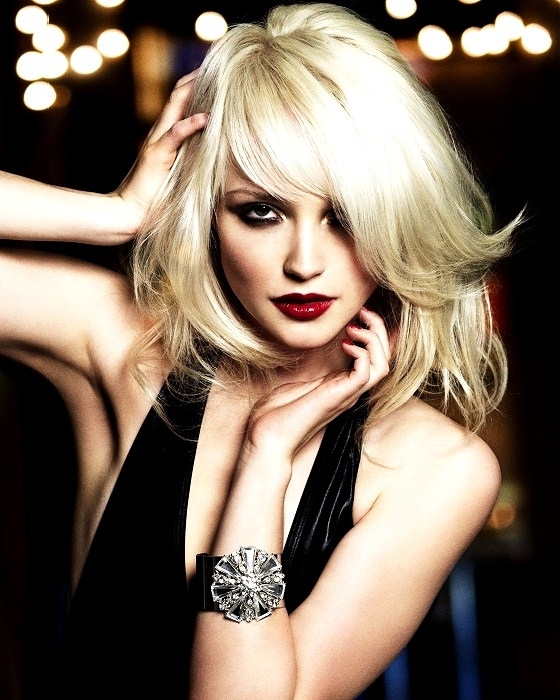 A lot of the best hairstyles for round faces involve layers of some sort, as you'll see. You can really flatter a round face by getting a cut consisting of layers with all different lengths. Angling them so that some are short, some are long, and others are medium will frame your face rather than trapping it with too much hair. The shortest ones should be chin length, while the longest ones vary – as long as your hair is, that's as long as they can be. This kind of cut lends itself well to both straight locks and soft waves.
---
2

Short, Sharp Bobs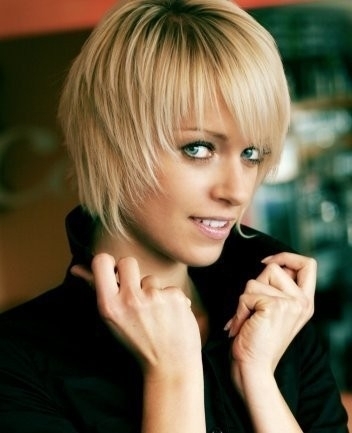 A bob is definitely the best hairstyle for round faces, in addition to being wonderfully trendy. The chin length look calls attention to your jaw and defines your bone structure. It creates a gorgeous juxtaposition of sharp angles with the soft, round curves and contours of your face. Just be careful when it comes to a fringe – either forget about the bangs or consider the fringes mentioned later in this post, which mesh well with rounder faces.
3

Angled Bangs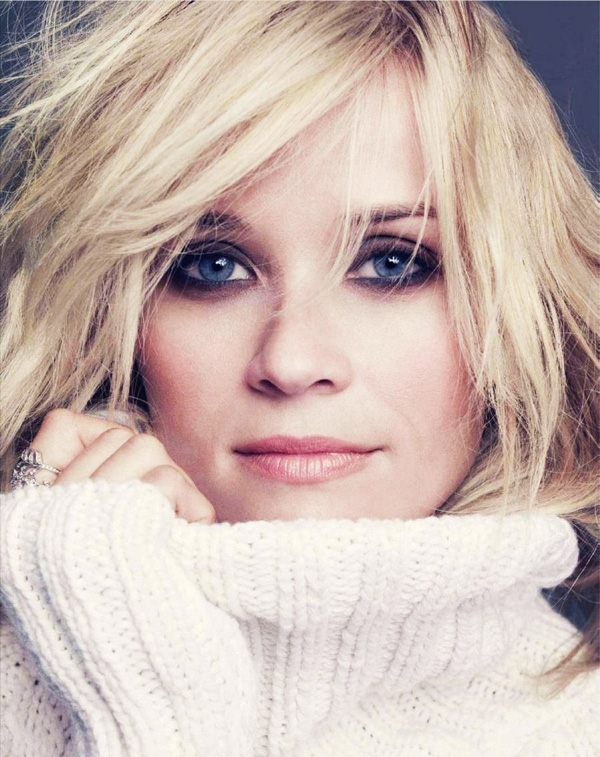 When you have a rounder face, bangs can be your best friends – and trust me, I speak from experience. All bangs won't work for your facial structure, but an angled look definitely will. You can carry off really thick, heavy bangs when your face has rounder curves. It helps if they're wider, so have your stylist make them span your cheekbones. They should be longer at those points, becoming shorter as they work in toward the center of your forehead. That way, they won't make your face look squashed or disproportionately small. They'll also draw attention to your eyes.
---
4

Long Waves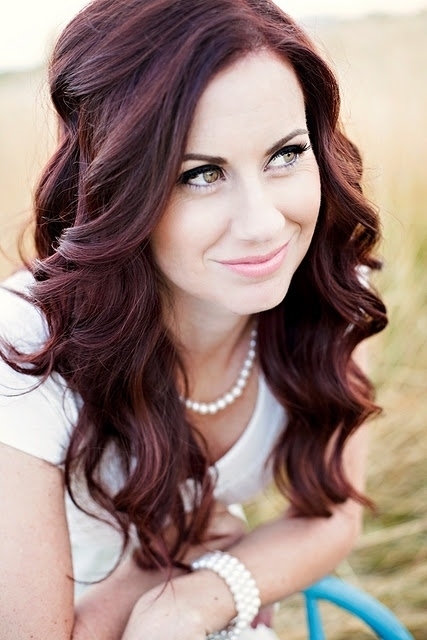 Longer waves look incredible for a number of reasons. You get lots of full body and lift for one thing. Both aspects do wonders for a round face. The style is also versatile – you can have long waves even if you have chin length or shoulder length hair, for example. Just let your hair dry in a few thick braids. The waves frame your face without crowding it, which is key.
---
5

Tapered Pixie Cuts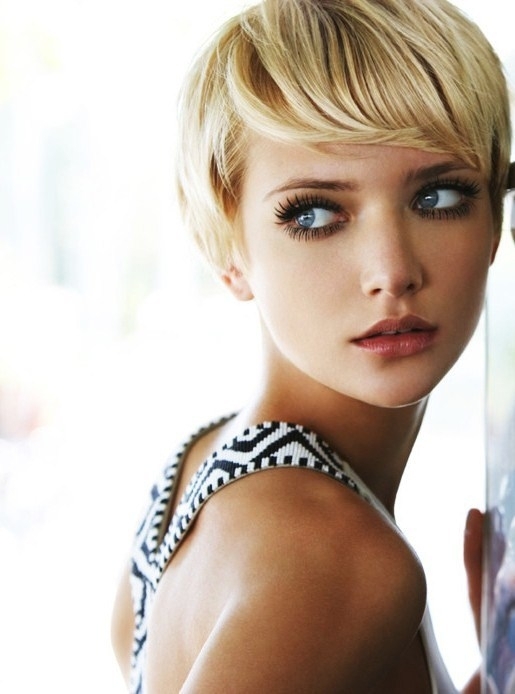 Believe it or not, pixies are fantastic haircuts for round faces – but, again, only certain styles. For instance, a cropped pixie with well placed tapering sets off round cheeks and makes shorter necks look longer. It's a common misconception that women with round faces don't look good with short haircuts, but that's not true. You just have to go with something really defined. Think about short sides with a taper that gets soft and subtle around your temples and ears.
---
6

Longer Layers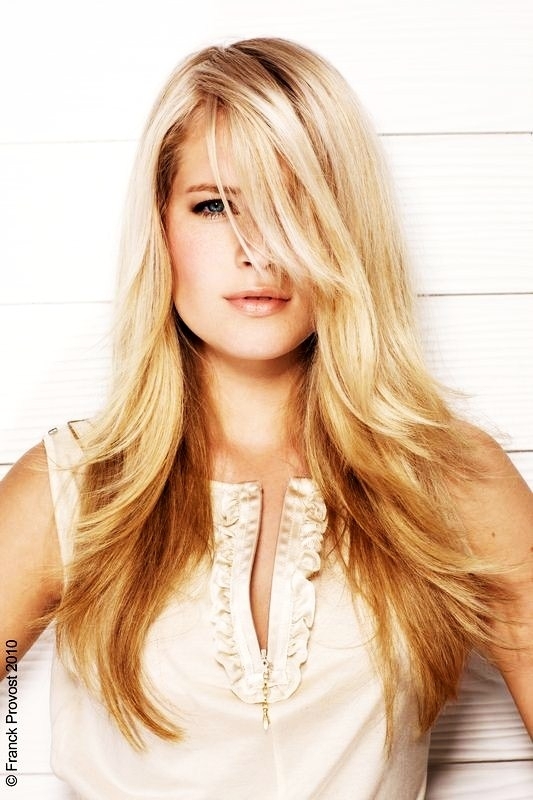 Like say, layers look fantastic with round, full faces. If you'd rather have long layers than mixed ones, go for it! Don't be afraid of long, luscious locks, just include equally long layering and some thinning for additional volume. Long hair with long layers elongates round faces, so that, again, your face isn't boxed in and crowded by too much hair.
---
7

Side-Swept Bangs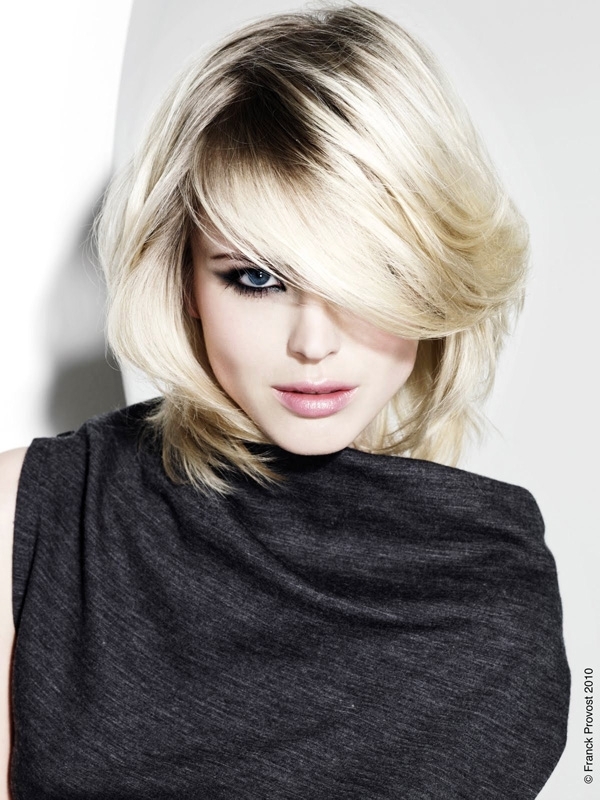 A cut with side-swept bangs is a really flattering haircut for round faces – and, again, I speak from experience! Go with a side part to match the sweep, so it doesn't look like you're trying to hide your face. The side-swept look also keeps your face from looking squashed or squared off in any way. This is also a great way to keep your bangs long, plus it's a style that works well when you're trying to grow out your fringe after cutting it short. It lends itself well to all different lengths, so don't be afraid to experiment.
---
8

Sleek Ponytails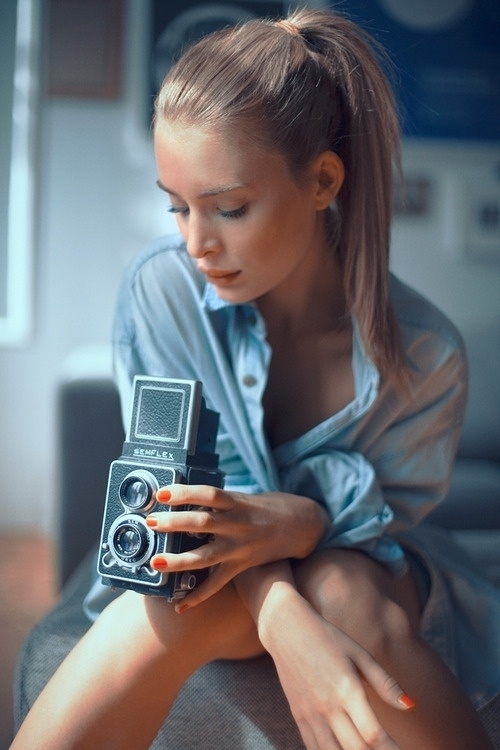 A lot of the best hairstyles for round faces involve actual styles rather than cuts. Sleek, swept back ponytails are ideal when you have a full face with rounded cheeks. In fact, it shows off all those soft, pretty curves. The style elongates the curve of your neck and calls attention to your bone structure. Wear your ponytail high or low at the nape of the neck, but try to slick back your bangs if you have them. Keep an open look that hides nothing!
---
9

Slovenly Sexy Updos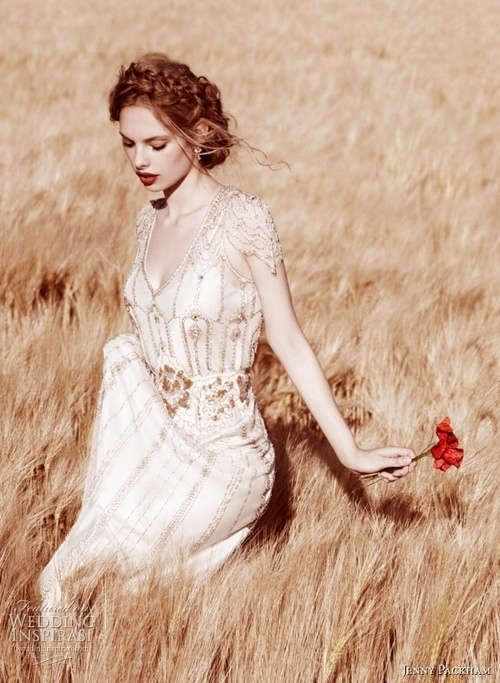 Here's another hot style for a round face: just about any kind of updo. Chignons, messy buns, or any other kind of casual 'dos all look fabulous. The key is making sure that there are tendrils pulled down and framing your face. This is another look that benefits from side-swept bangs. However, if you opt for heavier, angled bangs, be careful of your updos. You can still pull off an piled-high look, just make sure your bangs don't look too heavy with the style you choose.
---
10

Chin Length Looks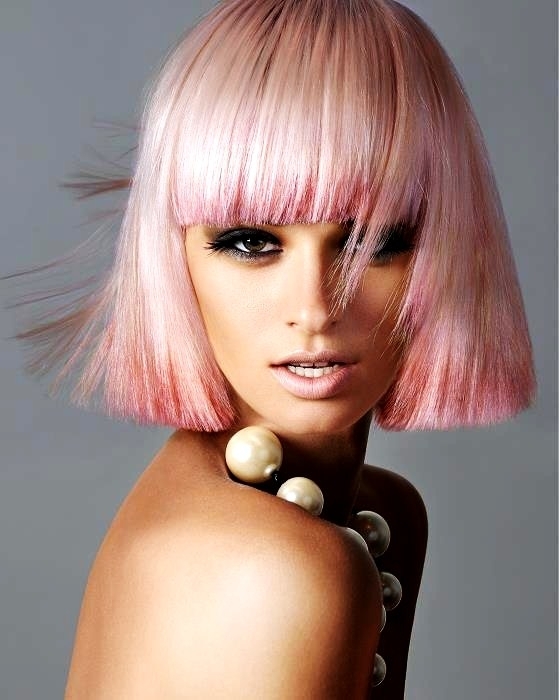 A lot of the best hairstyles for round faces fall to the chin or jaw. You may go with a bob, like the one mentioned above, but there are lots of other chin length styles to consider as well. Choose mixed layers, waves, or curls. Just make sure your cut shows off your jawline and frames your face without boxing it in – sharply angled cuts go well with round contours, but boxy styles aren't so great.
---
11

Long Looks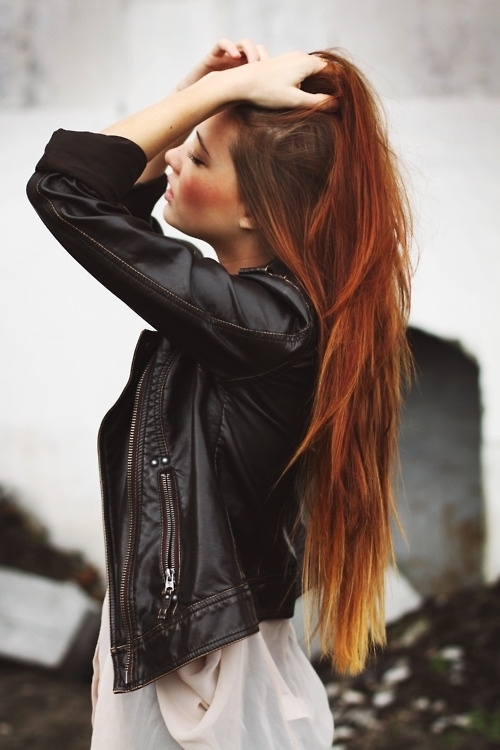 Wearing your hair long is a great option if you have a round face since it creates the illusion of a longer face and balances out your features. Just make sure you ask for a cut that's at least past your chin or longer.
---
12

Boho Waves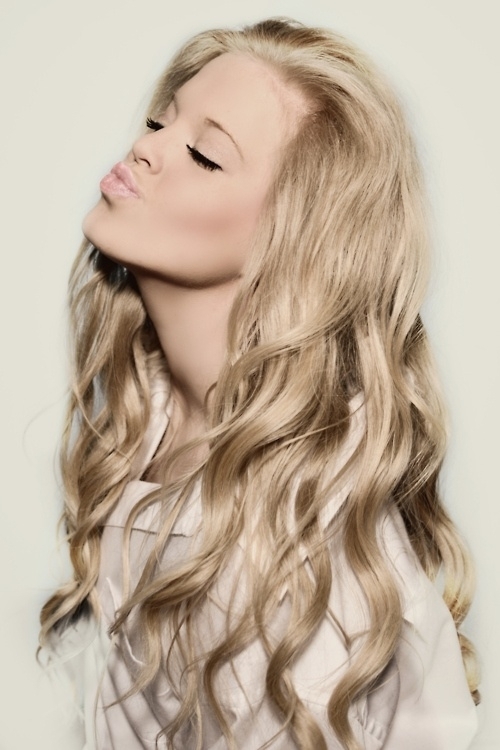 Another splendid option for round-shaped faces is to rock some gorgeous Boho waves. Soft waves that frame the face can help elongate it, as well as soften features. This style looks best with shorter layers around the chin area, so make sure you let your hairstylist know what you want!
---
13

Classy Curls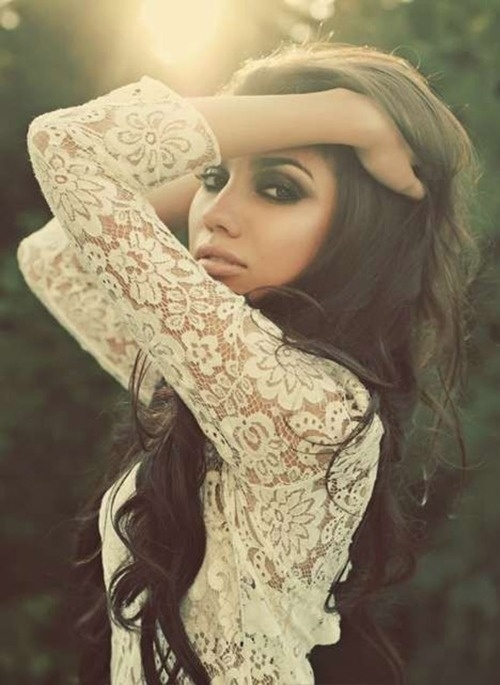 Soft, bouncy curls complement so many different face shapes and round faces are no exception. Avoid tight, severe ringlets and opt for soft, smooth curls that frame your face and give off a youthful yet romantic vibe.
---
14

Half and Half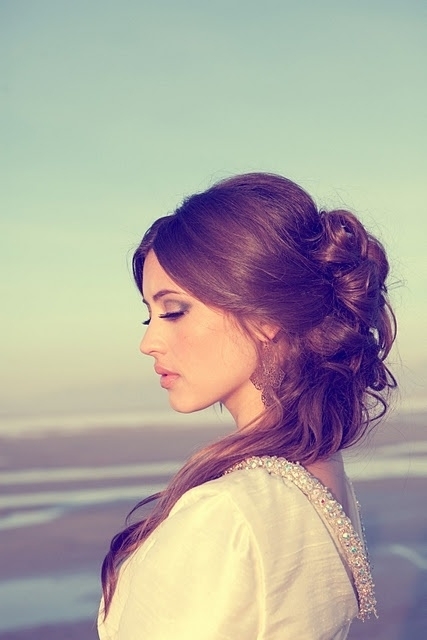 This style is perhaps the easiest hairstyle for round faces. Wearing your hair half up and half down is easy and very versatile. You can wear this style when you're at school or running errands, or glam it up and wear it to a social event. Make sure you give the top half some volume so it looks more pulled together.
---
15

Sleek and Straight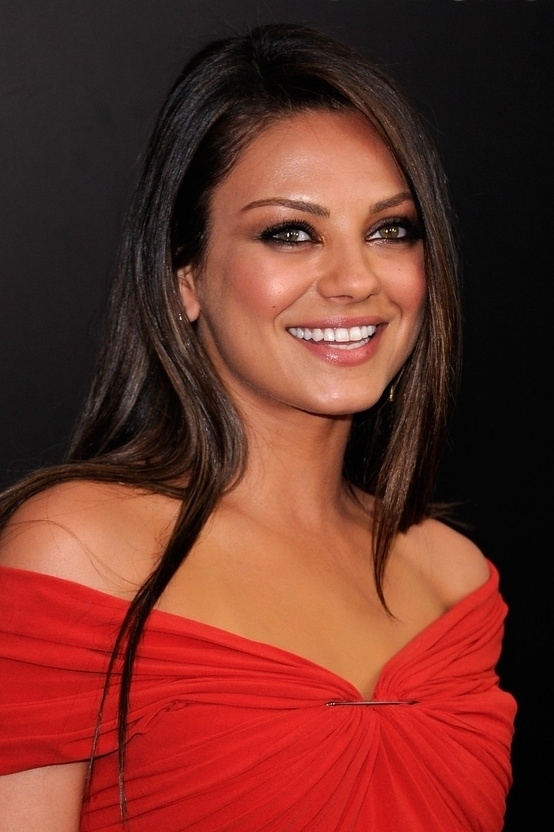 Sleek, straight hair might not seem like it would be a good fit for round faces, but it actually works. The trick is in the part and having some bounce to your hair. Wearing stick-straight, flat hair is rarely flattering, so make sure you give your roots some lift and play around with the part. It doesn't have to be one specific part, just experiment and see what works best for you!
These are definitely the best hairstyles for round faces, but trust that there are many others as well. In fact, you might favor a style you don't see on this list, and that's perfectly all right. It's always important to pick a hairstyle that you love. If it makes you feel beautiful and if you think it's flattering, then it works. What's your favorite haircut for round faces? If you have any to add, please sound off in the comments!
More
---
Comments
Popular
Recent